Chairman Nakamura gives lecture at Tsinghua University, China
On September 20, 2018, Sumitomo Corporation Chairman Kuniharu Nakamura delivered a lecture at Tsinghua University, one of the top universities in China. Sumitomo Corporation was the title sponsor of the event.
The session was attended by master's and doctoral students and alumni of the university, regional government officials in training and two Peking University students who have completed a one-year program in Japan under the Sumitomo Corporation Scholarship Program for Exchange Students from China.The lecture was given under the title "What constitutes sustainable business management?" Nakamura started by outlining the business model of an integrated trading company, which was unfamiliar to the Chinese audience, with reference to the historical background. He then described his own experience in business, including challenges he has tackled, and what drives him currently as the leader of a global company that will celebrate its centennial anniversary in 2019.
The session represented the latest round of the semi-annual lecture program organized as part of the joint research project launched in 2007 by Sumitomo Corporation and Tsinghua University.Over the past decade, the program has invited prominent leading Japanese executives to talk on selected topics grouped under two umbrella themes by phase: "global leadership" (first) and "effective organization" (second). Each lecture has drawn a large audience of approximately 200.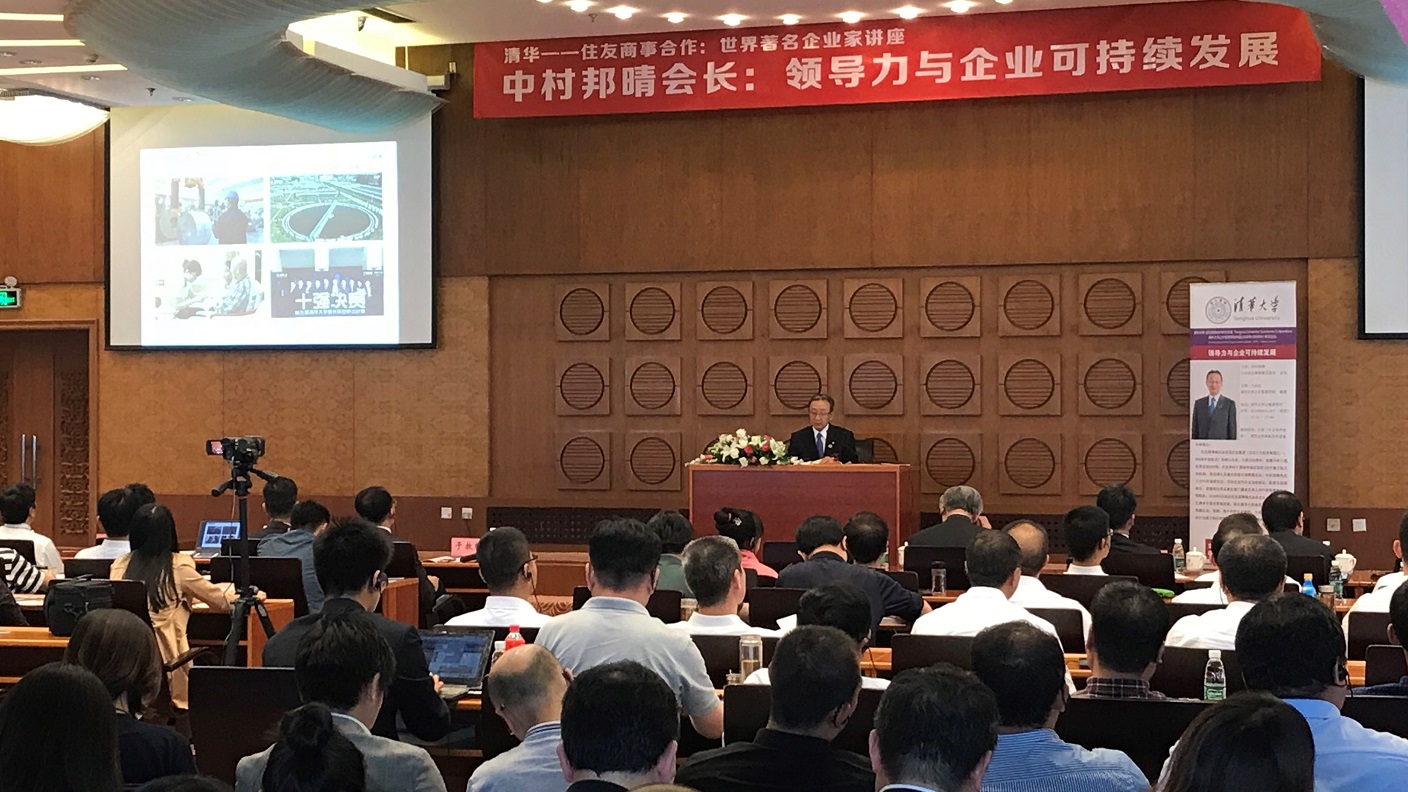 Nakamura's lecture marked the start of the third phase of the program, now in its 11th year, following an agreement to continue the project. The theme for the new phase is related to "sustainable business management," which is becoming important amid growing global concerns about issues of sustainability, driven by the UN Sustainable Development Goals (SDGs) initiative and the COP 21 Paris Agreement. We selected the theme through consultation with Tsinghua University as a suitable topic for Japan and China to explore together, given the ever-globalizing nature of business activities.
Sumitomo Corporation will continue this lecture program with the hope of deepening Chinese students' understanding of Japanese companies and businesses, and thereby helping to build friendly ties between the two countries.