Sumitomo Corporation initiates collaborative partnership with world-first technology owner FlowVIEW
Sumitomo Corporation has invested in Taiwanese startup company, FlowVIEW Tek (FlowVIEW) to initiate a collaborative partnership with the company. FlowVIEW has developed a technology that analyzes particles not visible to the naked eye at 10 nanometers or smaller inside liquids (hereinafter, "in-liquid solids analyzing technology"). This world-first technology can be applied to a wide range of business operations that Sumitomo Corporation is engaged in.
FlowVIEW is a startup company that was spun off in 2017 from the Industrial Technology Research Institute,* a Taiwanese government institution. Before the invention of this technology, observing or analyzing viruses or nano-level particles contained in liquids required the materials to be extracted and dried before observing them under an electron microscope. FlowVIEW's technology allows researchers to observe nanomaterials in liquids in their wet state. This means that the materials can be analyzed without effecting any change to them. Also, the technology can help reduce the R&D time and resources.
Sumitomo Corporation trades in electronic materials through its subsidiary, Sumitronics Taiwan. The in-liquid solids analyzing technology developed by FlowVIEW can potentially find applications in the semiconductor industry. Therefore, we expect to expand into new areas of business and build new networks with partners in the electronics industry. We can also expect to see applications of this technology in industries such as resource and energy, medical, biotechnology, healthcare, cosmetics, and food and beverages. For example, speed is crucial in the analysis of food products, such as in routine quality control and investigations into the causes of contamination. With FlowVIEW's technology, food products can be observed and analyzed under an electron microscope without the need for any pretreatment.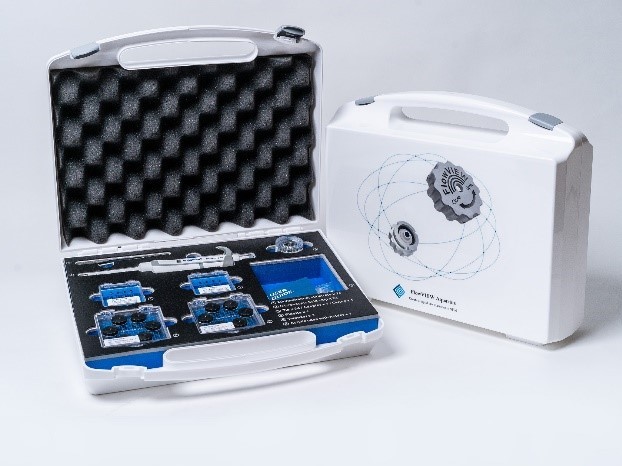 Sumitomo Corporation will provide sales support for FlowVIEW products in Japan and Taiwan, as well as in global markets. By leveraging the overall capabilities of the Sumitomo Corporation Group as a whole, we seek to make positive contributions to resolving the many challenges that industries face.
*Industrial Technology Research Institute:
World-class Taiwanese R&D institute founded in 1973, comprised of more than 6,000 employees.