Extending Partnership with the University of Tokyo on its Global Leadership Program
A memorandum was signed between Prof. Teruo Fujii, President of the University of Tokyo, and Masayuki Hyodo, President and Chief Executive Officer of Sumitomo Corporation, to extend, over the next three years, the Company's support for the university's Global Leadership Program (GLP), which aims at developing human resources capable of assuming leading roles in the international community.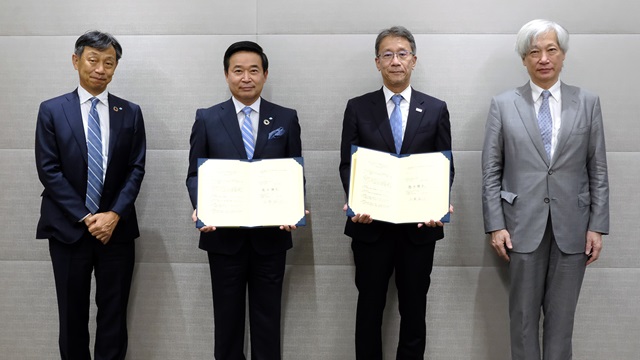 President Teruo Fujii (second from right) and Prof. Kiichi Fujiwara, Director of the GLP Office (right), the University of Tokyo
Masayuki Hyodo, President and Chief Executive Officer (second from left) and Hideki Yamano, Senior Managing Executive Officer, Chief Strategy Officer and Chief Information Officer (left), Sumitomo Corporation
* Although facial masks were temporarily taken off to take the photo, sufficient consideration was given to preventing the spread of COVID-19.
We started supporting GLP when it was launched in 2013, endorsing the purpose of the GLP-GEfIL program*, which is to nurture the next generation of leaders equipped with the ability to design and propose innovative solutions. Sumitomo Corporation has served as the UTokyo GLP Leading Partner since December 2018. Up to today, 200 students have completed the GLP-GEfIL program, going on to demonstrate their potential in a variety of fields. An alumni organization was also established in 2018 by its graduates.
During the meeting, the two presidents exchanged views and agreed that in the international community, it is critically important to forge and sustain strong relationships with others and that leaders taking on global issues must essentially acquire the ability to hold dialogues with people of diverse values and to win their recognition, across the boundaries of countries/regions and fields. They also identified the promotion of diversity as Japan's distinct challenge, and discussed that, for example, it was the shared responsibility of the industry and academia to further expand the roles played by women, which should also help nurture human resources capable of resolving social issues.
* GEfIL stands for Global Education for Innovation & Leadership. It is a special program within GLP organized during the last two years of the GLP period.