Global Cases
"Storing up" as a business: striving to commercialize reusing EV batteries as energy storageon a remote island off Kyushu
Corporate Communications Staff Explores the World
Mass Media Relations Team, Corporate Communications Department

Mai Fukada,

Having joined the company in 2012, she now covers news concerning chemical and environment & infrastructure businesses, domestic businesses, etc. She began playing tennis when she was a junior high school student, spending most of her time at university in tennis club team competitions, and she still spends nearly half of her spring and autumn weekends playing in corporate team tournaments. Finding herself sore the day after each competition, she has started to give some thought about her future sports pursuits as she enters her sixth year with the company.
A two-hour bus ride from Kagoshima Airport and a rocky 40-minute crossing on a high-speed craft brings visitors to the outlying islands of Koshikishima, whose clear waters stretch out under soaring blue skies in a landscape that makes time seem to pass more slowly than usual. Here on the Koshikishima Islands, Sumitomo Corporation is engaged in a demonstration project utilizing used electric-vehicle (EV) batteries, and in early October I visited the project's Koshikishima Power Management Center.
Koshikishima striving to become an eco-island
Koshikishima is an archipelago belonging to the city of Satsumasendai, Kagoshima Prefecture, and comprising the three main islands of Kami-Koshikishima, Naka-Koshikishima, and Shimo-Koshikishima as well as countless other minor islands. In recognition of its beautiful natural environment, which includes Kashima Cliffs and a diversity of seashore landscapes, a quasi-national park was established there in March 2015.
Upon my arrival by high-speed craft at Sato Port, essentially the island's gateway, a small green and yellow vehicle, an ultra-compact one-person EV known as COMS, caught my eye. Satsumasendai has formulated a Satsumasendai City Next-Generation Energy Vision that advocates the introduction of renewable energy, EVs, and smart houses into the city, and COMS is part of that effort. The city is reportedly seeking both to protect the natural environment and promote tourism by establishing the Koshikishima Islands as an eco-island.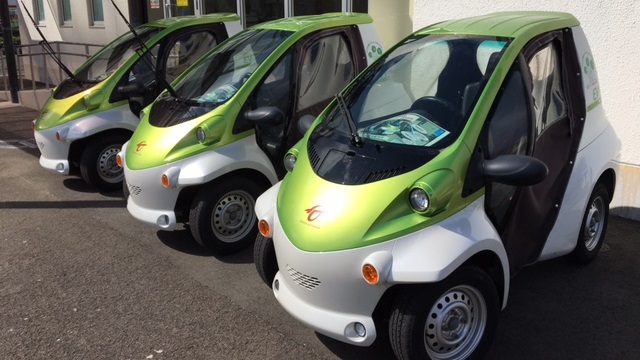 Expanding the introduction of renewable energy with reused EV batteries
A 10-minute car ride from Sato Port brought me to the Koshikishima Power Management Center. Covering the Field track of the former Urauchi Elementary School were 448 solar panels and five containers, the latter holding reused batteries from a total of 36 EVs.Because renewable energy output varies greatly with the weather, it is an obligation in the remote islands to build power storage facilities alongside power generation facilities to stabilize output and transmit electricity to the power grid. Some locales mandate that electric power companies install such storage facilities, raising the barrier to entry into the renewable energy sector even higher.
Sumitomo Corporation's demonstration project connects a power storage system using reused EV batteries directly to the electric power grid, and employs a "smoothing effect" to control output variability from multiple renewable energy sources via a single power storage system. This is more efficient than installing and controlling power generation facilities and power storage facilities on a one-to-one ratio, and improved economy can be achieved by using second-hand reused EV batteries that still function adequately and cost less than new batteries. This is the first attempt by a private company in Japan to connect a power storage facility directly to the power grid.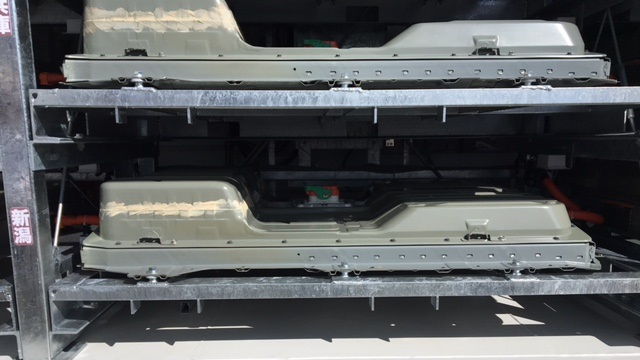 Ordinarily unmanned, the power storage facility is remotely controlled from control rooms at Sumitomo Corporation (Chuo-ku, Tokyo) and Sumitomo Corporation Kyushu (Hakata City, Fukuoka Prefecture). In charge of this project is the "Dream Team" led by Yasuhiro Fujita of the Energy & Environment Business Department, and personnel at both the Tokyo Head Office and at Sumitomo Corporation Kyushu help run the facility. Most project procedures are the responsibility of personnel at the Tokyo Head Office, with the staff in Kyushu rushing in to restore operations if a system shutdown or other contingency occurs. The team has visited the Koshikishima Islands more than 30 times.
Shinji Kubo, General Manager of the New Energy Policy Division at the Satsumasendai City Planning Policy Department, said: "Expanding the introduction of renewable energies is absolutely essential both to achieve Satsumasendai's goal of 'urban development utilizing next-generation energy' and to combat global warming. Storage batteries are required for introducing renewable energy to the islands, and we have high expectations of the demonstration project's results."
The aim of the demonstration project is to establish a business model under which the local government will ultimately own the power storage system and receive a contract from a renewable energy business operator to control the output. The idea is to encourage the maximal introduction of renewable energies by establishing projects that can be run primarily by local governments without relying on subsidies.
Expectations of regional revitalization
The demonstration project at the Koshikishima Power Management Center is raising expectations in another regard besides the promotion of introducing renewable energy: support for regional revitalization.
The Koshikishima Islands has no high school, so children who have finished junior high school must cross to the mainland to continue their education in what is known as the "separation at 15." Many of the youth stay on the mainland after finishing high school, and regional revitalization has become a major issue as the islands' population declines and ages.
Koki Okuhira, General Manager of Satsumasendai City's Kami-Koshiki Office, has high hopes for the regional revitalization potential of the Power Management Center: "If the demonstration project succeeds and brings a energy related company to the island, jobs will be created and we could see local revitalization. The Koshikishima Islands is also seeking to qualify as a geopark, and we may be able to use the Power Management Center as a way of calling attention to our efforts to become an eco-island."
Akinori Ishihara, Chairman of the Satsumasendai City Kami-Koshiki District Community Council, told me: "Improving the community in which we reside so that we can enjoy more active lives is a key issue. We are hoping that operating the Power Management Center will draw in more people and help revitalize our community. Protecting our natural environment is also an important endeavor for the Koshikishima Islands as a quasi-national park, and we believe that the Power Management Center can serve as a cutting-edge example. We want residents to be proud that this forward-thinking project is being carried out in their own neighborhood."
One of the classrooms in the former Urauchi Elementary School houses panels describing the project as well as a diorama of the island, and it is used as a space for briefing visitors on the facility's operations. Classes are also conducted to teach local elementary students about renewable energy and enhance the understanding of local residents.
Taking the "Koshikishima model" to the mainland and then overseas
There are now about 220,000 EVs operating in Japan, and it is said that in a few years the batteries from about 10,000 vehicles per year will be spent. Sumitomo Corporation wants to extend this "Koshikishima model" to small-scale power grids on other remote islands in Japan as well as overseas. Hoping to be able to use the know-how obtained through this demonstration project by 2020 when the generation and transmission of power will be segregated, Sumitomo Corporation will be working to establish a new power-conditioning business that utilizes reusable batteries. The demonstration project on the Koshikishima Islands should begin to blossom and bear fruit in the not-too-distant future.
Interest in the effective utilization of EV batteries has been growing overseas as well. The German automobile manufacturer Daimler announced plans in November 2015 to construct a power storage facility, while BMW and Bosch in September 2016 jointly started test operation of a power storage facility. Used batteries from EVs are showing great potential as "business seeds."
On small outlying islands approximately 960 kilometers from Tokyo, the Dream Team has taken up the challenge of a demonstration project unprecedented in Japan. Legislation governing power storage facilities and reusable batteries is still lacking in Japan, and numerous difficulties and concerns undoubtedly face those involved in demonstration projects, who press forward despite the challenges to effectively utilize reused EV batteries in creating new business and helping bring about a low-carbon society. Having heard the Dream Team express its convictions about the project's significance and its desires to open up new paths, I felt myself fully recharged with energy as I concluded my visit to Koshikishima.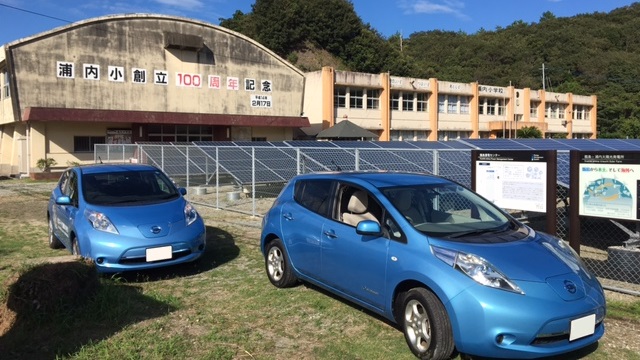 (Bonus) Gourmet Chronicles of a Corporate Communication Staff
Formerly home to a booming fishing industry, the Koshikishima Islands is endowed with an abundance of seafood. It is particularly known for banded blue-sprat, and packs of banded blue-sprat were lined up on display at the supermarket. The standard menu item at the restaurant where I had lunch was aosa (sea lettuce) ramen. The green color of the noodles surprised me at first, but the noodles had an unexpectedly salty flavor and a subtle aftertaste. Sushi restaurant, Kanoko, is the only shop on the island where diners can enjoy tuna farm-raised on the island. You can eat your fill of sashimi from a wooden boat-shaped dish filled to a level unthinkable in Tokyo, enjoying the extraordinary sensation of tender, melt-in-your-mouth tuna. It is a treat that you absolutely must try when you visit.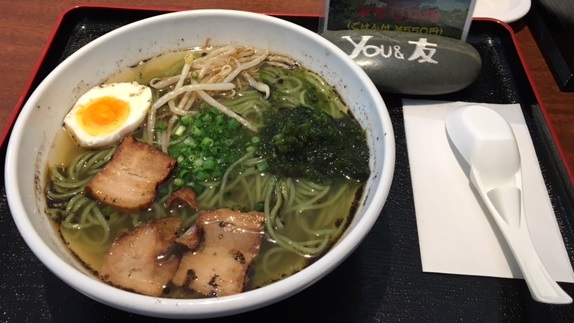 Keyword
Infrastructure Business
Japan
Electric Power Energy
Environment
Transportation