Dividend Policy
Sumitomo Corporation aims to increase dividends by achieving medium and long-term earnings growth while adhering to its fundamental policy of paying shareholders a stable dividend over the long term.
Under SHIFT 2023, our medium-term management plan for FY2021 to FY2023, we decide the annual dividend based on our fundamental policy of paying long-term stable dividends and taking into consideration the status of fundamental earnings capacity, cash flows, and other factors, with a consolidated payout ratio of about 30% as a guideline, maintaining at least 70 yen per share, the same amount as the annual dividend for FY2020.
The forecast for consolidated financial results for FY2021 is 230.0 billion yen, and in accordance with the above dividend policy, we plan to pay an annual dividend of 70 yen per share for FY2021.
Dividend per Share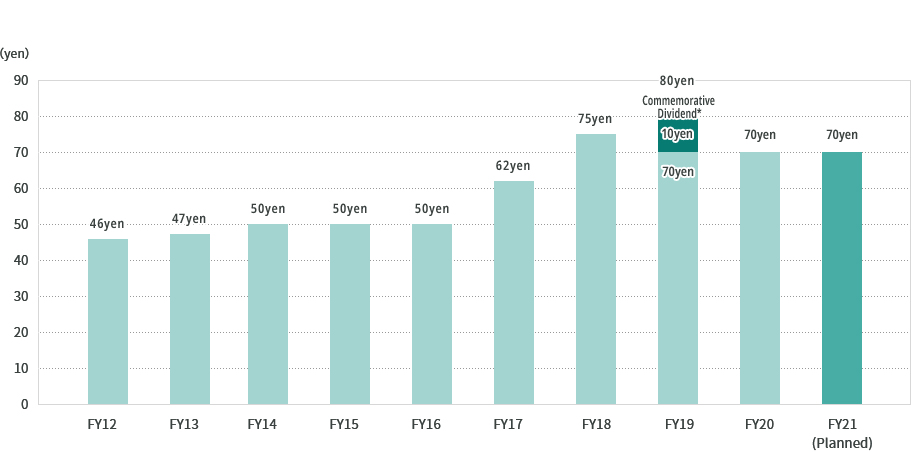 For the years ended March 31
Cash dividends per share (Total)
Interim
Year-end

FY2012
46yen
25yen
21yen
FY2013
47yen
23yen
24yen
FY2014
50yen
25yen
25yen

FY2015
50yen
25yen
25yen

FY2016
50yen
25yen
25yen

FY2017
62yen
28yen
34yen

FY2018
75yen
37yen
38yen

FY2019
80yen
(ordinary didivend 70yen+
100 anniversary commemorative dividend 10yen※)
45yen
(ordinary dividend 35yen+
100 anniversary commemorative dividend 10yen※)
 35yen


(ordinary dividend 35yen)

FY2020
70yen
35yen
35yen

FY2021(planned)
70yen
35yen
35yen