Mar. 03, 2015
Sumitomo Corporation
Nippon Sharyo, Ltd.
Trains Ordered for North-South Line of Jakarta Mass Rapid Transit System
Sumitomo Corporation (Head Office: Chuo-ku, Tokyo, President and CEO: Kuniharu Nakamura) and Nippon Sharyo, Ltd. (Head Office: Nagoya, Aichi, President and CEO: Akira Nakagawa) have been awarded a contract by MRT Jakarta (funded by Special Capital Territory of Jakarta; hereinafter, "MRTJ") to supply 96 subway cars for Indonesia's first subway line, the North-South Line of the Jakarta Mass Rapid Transit system. The contract is valued at 13 billion yen.

The cars provided under the contract will adopt the Standard Urban Railway System for Asia (STRASYA), an urban railway system developed by Japanese railway companies in partnership with the Japanese government to promote the export of Japanese railway systems to Asian countries. The basic idea of STRASYA is to achieve safer and more energy-efficient trains by utilizing the know-how on how to design and build reliable cars of the kind that are already used in Japan. Introducing these cars can improve punctuality and stability of operation while eliminating the need for frequent maintenance. The project represents the first time in two decades that newly built Japan-made trains will be introduced into the Indonesian railway system, where used Japanese trains are still playing an important role.

Indonesian president Joko Widodo has been a strong supporter of the Jakarta Mass Rapid Transit project since he was governor of Jakarta and has emphasized the importance of expanding infrastructure development to match the rapid population and economic growth currently underway. The project is also regarded as a flagship project of the Metropolitan Priority Area initiative aimed strengthening the strategic partnership between Japan and Indonesia and as such is a very important and high-visibility project for both governments.

Sumitomo Corporation and Nippon Sharyo have a track record in supplying trains globally, such as to the United States, Taiwan and the Philippines. In Indonesia, the two companies have partnered with a state-run company to jointly establish and operate a railway engineering firm, which has contributed to the community through technology transfer and developing the Indonesian railway industry. MRTJ is planning to extend its MRT tracks for about 8 kilometers in a northward direction and to build new tracks running across Jakarta in an east-west direction. With plans to build new railway systems in other Indonesian cities also in the works, Sumitomo Corporation and Nippon Sharyo expect to make further contributions while continuing to expand its share of the country's railway market.


-Outline of the project
Length
:
15.7 kilometers
Location
:
South Jakarta (from Lebak Bulus to Bundaran Hi)
Number of trains
:
16 coaches (one coach is composed of six cars), 96 cars
Delivery time
:
185 weeks (about three and a half years after starting construction)
-Plan of route map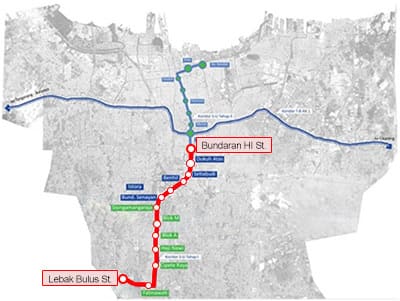 -Image of the car