Oct. 12, 2018
Sumitomo Corporation
Mahindra Agri Solutions Limited
Participation in Mahindra Group's crop care distribution business in India
Sumitomo Corporation (Head Office: Chiyoda-ku, Tokyo; Representative Director, President and Chief Executive Officer: Masayuki Hyodo, hereinafter "Sumitomo Corporation") being together with Summit Agro International Ltd. (hereinafter, the two companies are collectively termed "the Sumitomo Corporation Group") will do capital participation in Mahindra Summit Agriscience Limited (Head Office: Maharashtra State Mumbai India; Representative: Sandeep Gadre, hereinafter "MSAS") which was spun-off from crop care distribution business units of Mahindra Agri Solutions Limited (hereinafter "MASL"), a wholly owned subsidiary of Mahindra & Mahindra Limited (head office: Maharashtra State, Mumbai, Representative: Mahindra, Anand Gopal, hereinafter "Mahindra").
The Sumitomo Corporation Group will acquire 40% of the shares of MSAS, established in October 2018, taking over the crop care distribution business at MASL, and will participate in business upon acquiring governmental approvals and licenses (planned for January 2019).
India, a country having over 1.3 billion populations, is one of the biggest agricultural power countries where the production and consumption of staple crops such as rice and wheat are the largest in the world. Its agricultural land area is about 150 million hectares which is four times as big as the total land area of Japan. However, the yield per unit area in India is still much lower than global average and more efficient and effective agricultural practices have become social needs which results in the rapid expansion of the demand for agricultural materials such as crop care products and fertilizers. The country has a lot of crop varieties such as rice, wheat, cotton, beans, vegetables, fruits, tea etc. which Japanese crop care manufactures compile know-how and experiences.

Mahindra is the largest tractor manufacturing company in India (market share 42%) and also has other business such as automobiles, irrigation facilities, IT etc. with robust sales network throughout the country. The Mahindra Group with Mahindra as the core is an innovative conglomerate corporate group being proud of its outstanding publicity and credibility. On the other hand, the Sumitomo Corporation Group has rich experience and know-how in its distribution business over the world and is confident of its track record of penetrating and marketing a large number of crop care products, being mainly Japanese products, to the market.
By synergizing the business know-how and product development capabilities at the Sumitomo Corporation Group with tangible and intangible platforms proud of the Mahindra Group, we respond to social needs of Indian agriculture and provide new value to agricultural producers.
The global expansion of crop care distribution business by the Sumitomo Corporation Group will be the 33rd country with capital participation in MSAS and will cover about 90% of the top 20 countries of the world crop care market.
[Reference data]
■Profile Company
| | | |
| --- | --- | --- |
| Name | : | Mahindra Agri Solutions Limited |
| Address | : | Farm Equipment Sector, 5th Floor, EPU Building, Gate No. 4, Akurli Road, Kandivli (E), Patankarwadi, Akurli Nagar, Kandivali East, Mumbai, Maharashtra 400101 |
| Principal business | : | Crop care distribution, food business such as fruit purchase export |
| Establishment | : | 2016 |
| Main Shareholders | : | Mahindra & Mahindra Limited |
| | | |
| --- | --- | --- |
| Name | : | Mahindra Summit Agriscience Limited |
| Address | : | Mahindra Towers, Dr. G. M. Bhosale Marg, P. K Kurne Chowk, Worli MUMBAI Mumbai City MH 400018 India |
| Principal business | : | Crop care distribution in India |
| Establishment | : | 2018 |
| Networks | : | 4 Zonal offices, 19 Clearance & Forwarding points, 1 Formulation plant |
| Main Shareholders | : | Mahindra Agri Solutions Limited, Sumitomo Corporation, Summit Agro International Ltd.(SAI) |
■Sumitomo Corporation Group's Global Crop Care Distribution Network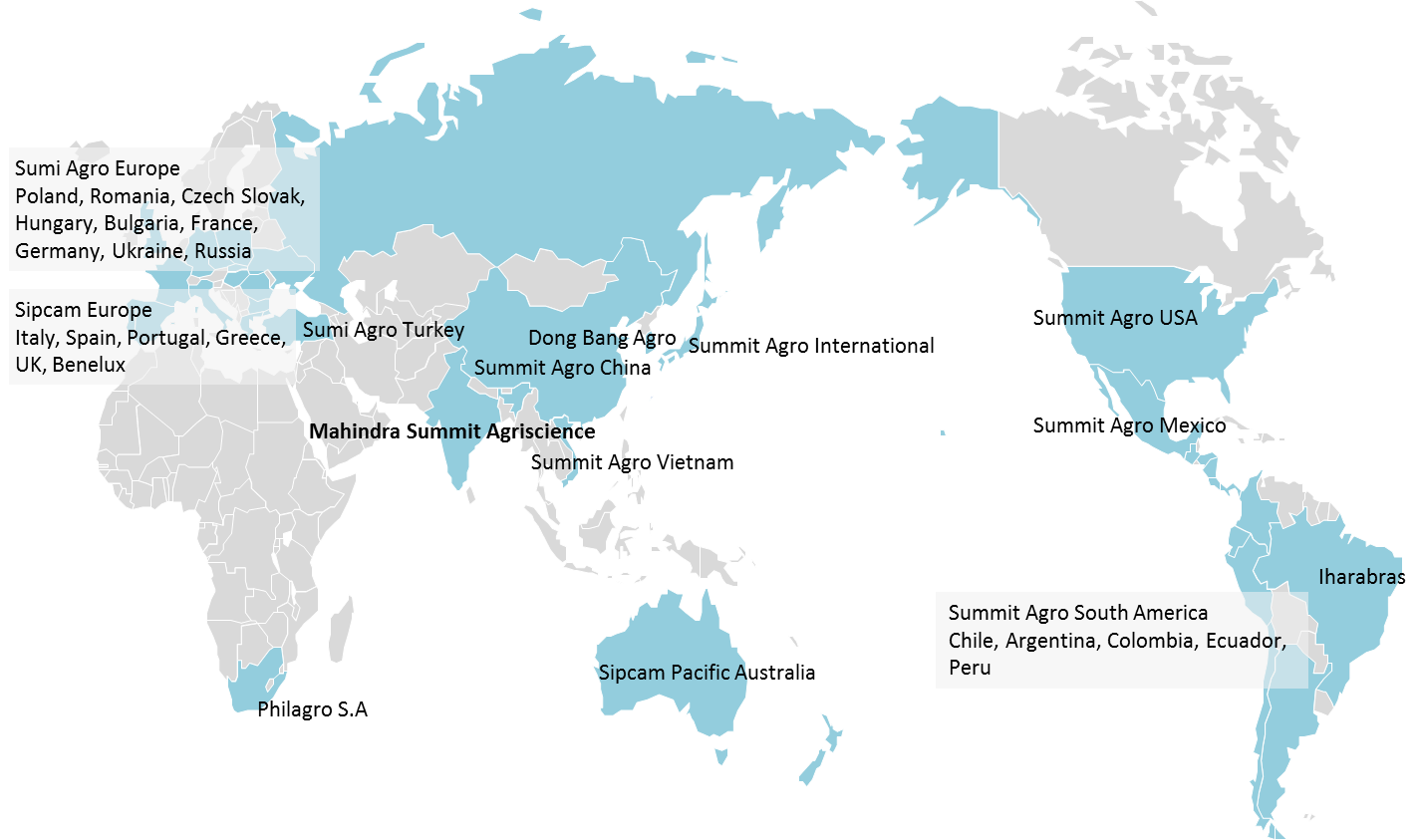 ■Sumitomo Corporation's Material Issues
Sumitomo Corporation Group positions "Six Material Issues to Achieve Sustainable Growth with Society" as an important factor in developing business strategies and in the decision-making process for individual businesses. Going forward, we will pursue sustainable growth by resolving these issues through our business activities. This project especially contributes to "the Development of Local Communities and Industries" and "Establishing a Foundation for Comfortable and Enriching Lifestyles".