Mar. 17, 2022
Sumitomo Corporation
Commencement of Sales of Industrial Park at Greater Dhaka, Bangladesh
Sumitomo Corporation (Head Office: Chiyoda-ku, Tokyo; Representative Director, President and Chief Executive Officer: Masayuki Hyodo) has commenced sales of the industrial park developed in a special economic zone in Narayanganj District, Dhaka Division, Bangladesh together with Bangladesh Economic Zones Authority (referred to as BEZA hereinafter).

Bangladesh borders India on the north, east and west, and Myanmar on the southeast, placing at a geographically important location connecting South and Southeast Asia. Bangladesh has abundant human resources, with 170 million people (ranking 8th in terms of population in the world) and the labor market is expected to increase at a pace of more than 2 million people every year for the next 20 years. Not only is Bangladesh expected to have a large domestic market, the country is expected to play an important role in the supply chains of products as an export hub for products to neighboring countries. Bangladesh government has set a goal of developing 100 special economic zones by 2030 with aim to diversify industrial areas, and global companies have made inroads into Bangladesh recently as a result.

The industrial park is located approximately 20 kilometers east of central Dhaka (about 1 hour by drive), and approximately 190 hectares are now being developed. The industrial park started its on-site infrastructure development construction works in November 2021 and is scheduled for completion to begin operational in December 2022. The industrial park features international standard infrastructure set up through a Japanese government ODA loan project and One Stop Service through BEZA for license and approval procedures for investors. Sumitomo Corporation is investing 76% stake in the industrial park entity, which amounts to approximately 13 billion Japanese Yen.

Sumitomo Corporation has taken part in the business of development, sales and operation of industrial parks in Indonesia, the Philippines, Vietnam, Myanmar and India. As of February 2022, the 7 industrial parks have invited 563 tenant companies with 220,000 direct employment. This year marks the 50th anniversary of diplomatic relations between Bangladesh and Japan. Sumitomo Corporation will utilize its know-how obtained through industrial park business operations in other countries to support tenant companies and contribute to the diversification of the industrial sector and encouraging job creation in Bangladesh.

Note: Special economic zones: Zones to which legal and administrative incentives are given for economic development.
<Reference>
■Overview of the special economic zone
(1)Company name

:

Bangladesh SEZ Ltd.
(2)Name of the special economic zone

:
Bangladesh Special Economic Zone

(3)Stakeholders
:
Sumitomo Corporation 76%
Bangladesh Economic Zones Authority (BEZA) 24%
(4)Place
:
Narayanganj District, Dhaka Division, Bangladesh
(5)Development area
:
About 190 hectares
(Phase 1: 83hectares, Phase 2:107hectares)
(6)Total investment
:
Over 13 billion Japanese Yen
■Location
■Aerial View of the special economic zone
■Commencement Ceremony at Dhaka on March 16th, 2022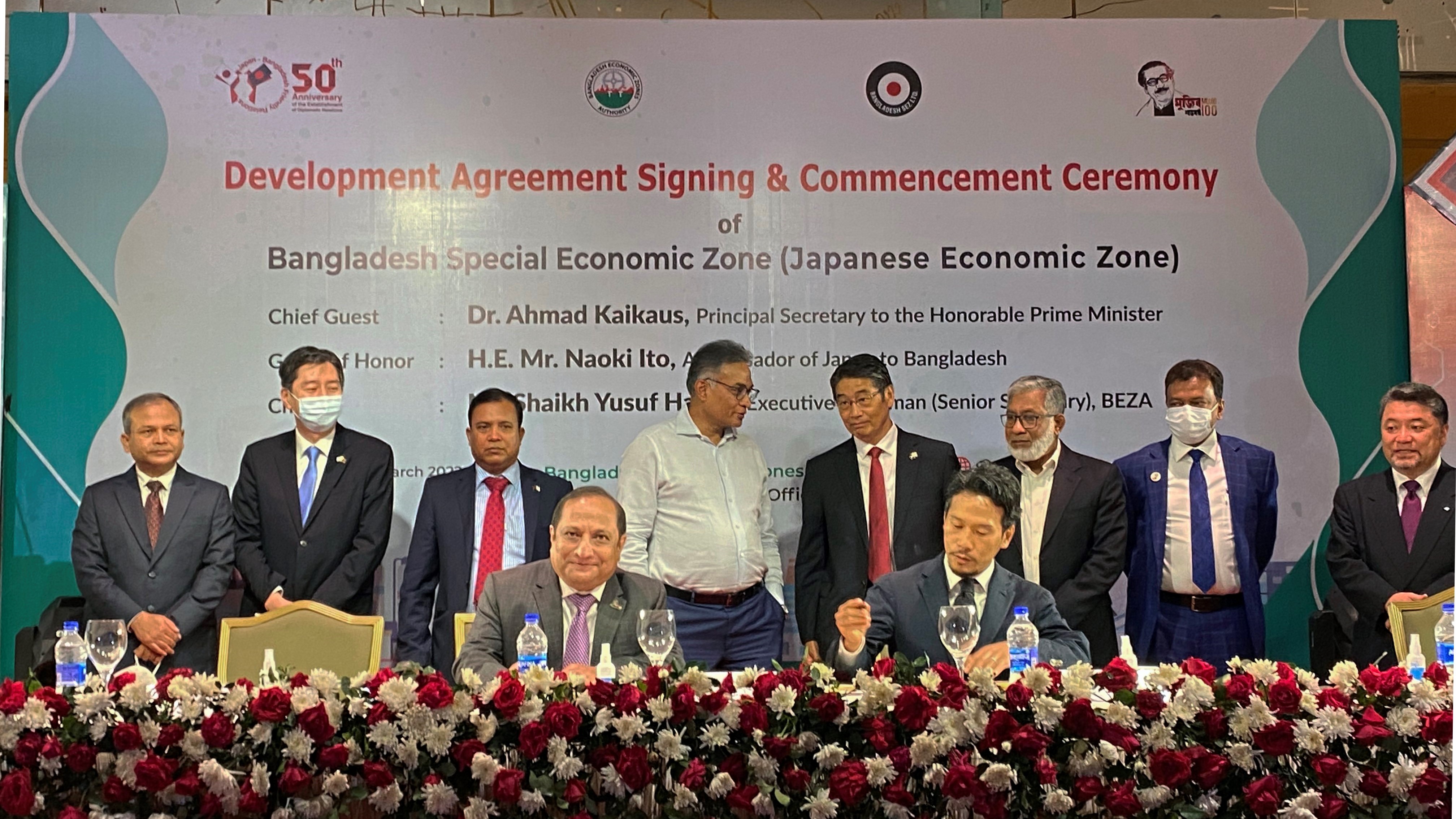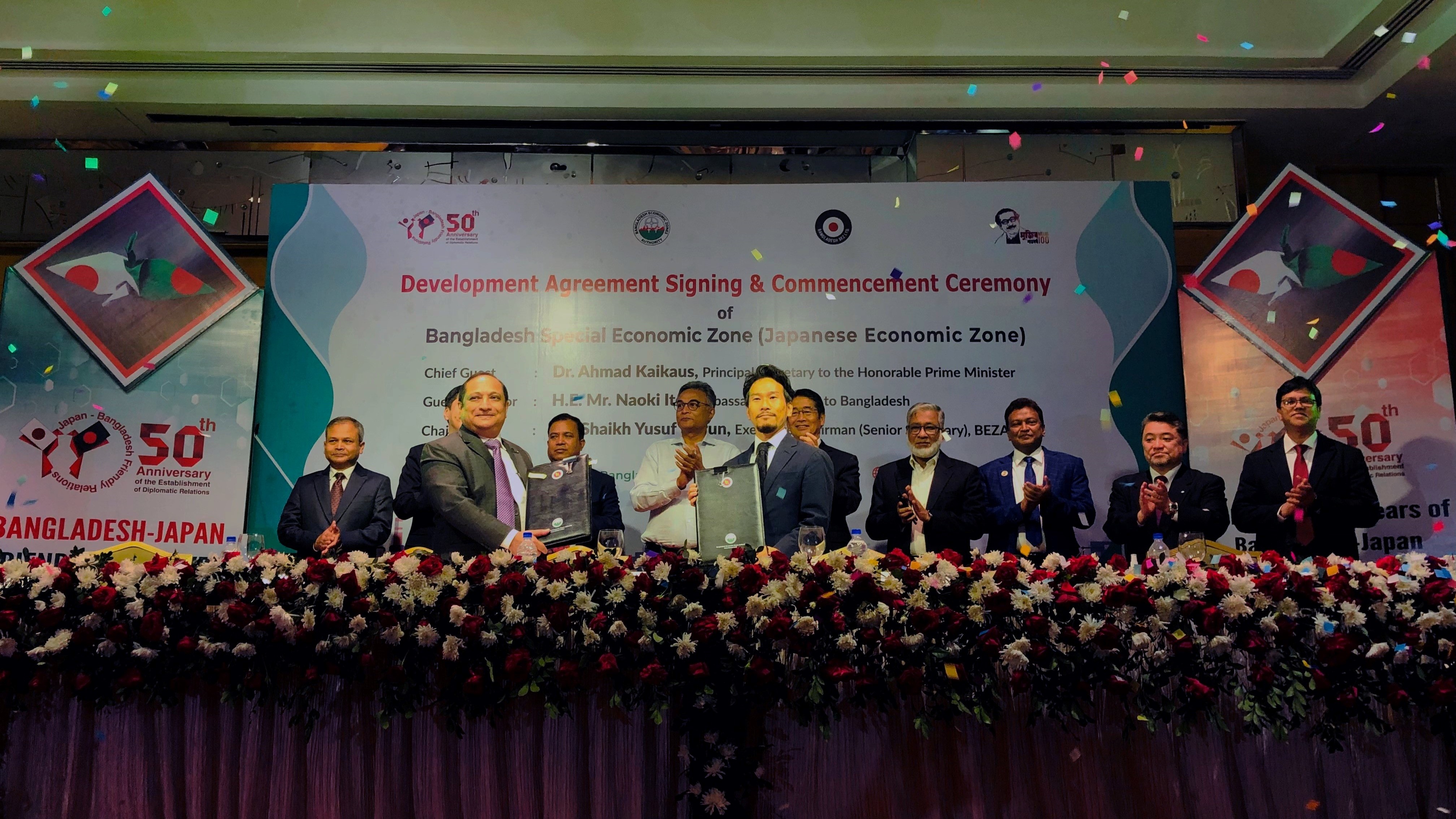 Sumitomo Corporation's Material Issues
Sumitomo Corporation Group positions "Six Material Issues to Achieve Sustainable Growth with Society" as an important factor in developing business strategies and in the decision-making process for individual businesses. Going forward, we will pursue sustainable growth by resolving these issues through our business activities. This project especially contributes to the following material Issues.
Achieving Harmony with the Global Environment
Contributing to the Development of Local Communities and Industries

Establishing a Foundation for Comfortable and Enriching Lifestyles

Providing Diverse "Accessibility"
---

Developing Human Resources and Promoting Diversity

Enhancing Governance