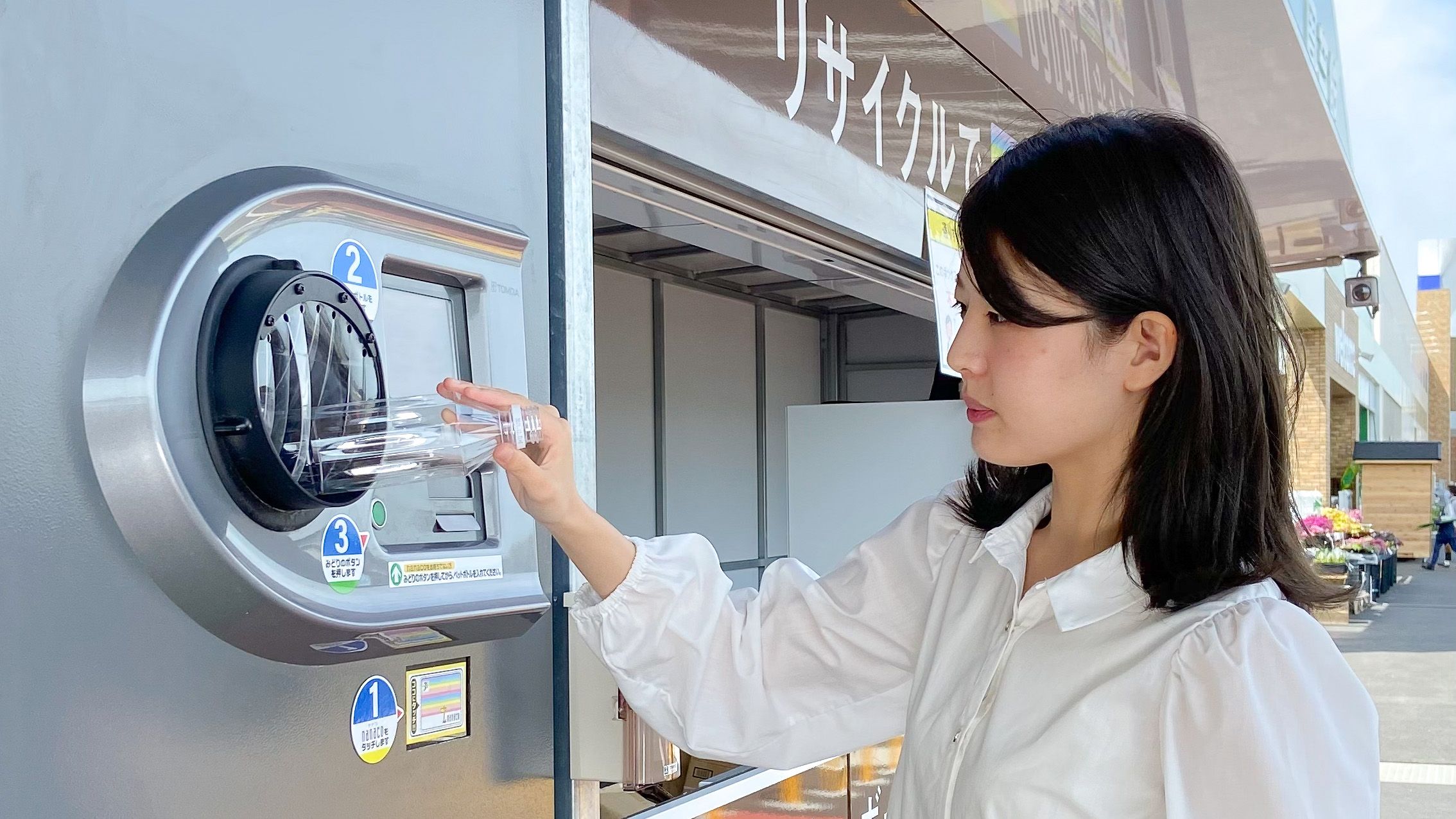 Global Cases
Establishing municipal recycling systems for beverage containers
Japan
Handling of used plastic bottles becoming a major challenge
Used plastic bottles continue to pile up, day after day. Perhaps you feel it is a bother to dispose of them. Automated collection machines for used beverage bottles are one simple and straightforward solution to this problem. Unlike a simple collection box, the automated collection machine can separate and compress used bottles on the spot, with high recovery efficiency posing a major advantage. Tomra Japan Ltd., a subsidiary of Sumitomo Corporation, is engaged in the recycling of used beverage bottles by using these automated collection machines.
Reducing the issue and costs of separating and collecting used beverage bottles
Tomra Japan is a joint company of Tomra Systems ASA (hereinafter, "Tomra") and Sumitomo Corporation. Tomra was founded in 1972 in Norway, an environmentally advanced country, and operates manufacturing and sales businesses for reverse vending machines (RVMs), the collection machines for used beverage containers developed by Tomra's founder, in more than 50 countries, mainly in Europe and including the United States. The RVM, sold by Tomra Japan, crushes collected used plastic bottles and compresses them to one-third of their original size thereby allowing them to be easily transported and recycled.
With the introduction of this system, the issue associated with separating collected containers is solved because the RVM can automatically separate plastic bottles, plastic containers and cans using an internal sensor.
Tomra has delivered more than 80,000 RVMs throughout the world. In Japan, Tomra Japan has delivered about 1,300 RMVs now in service in the Tokyo metropolitan area. Many of them are placed at supermarkets including Summit, and some of them collect more than 2,500 plastic bottles a day. Tomra's RVMs are very popular, and sometimes you can find queues of people waiting to use them.
In Japan, used plastic bottles are collected by local governments (municipalities) on a regular basis. The costs are covered by taxpayers, and therefore, a new recycling system is required to reduce the social cost. Some countries have introduced a deposit system in which a certain amount of money is refunded when used bottles are returned. However, this system is operated only for 20% of all beverages. In light of these circumstances, Tomra Japan, having an established method for plastic bottle collecting and recycling via RVM, expects a major business opportunity in this field.
Issuing "points" that can be used for shopping depending on the number of used bottles collected
The beverage container recycling system using Tomra RVMs benefits everyone involved. Since April 2012, RVMs have been rolled out to about 480 outlets of the Seven & i Holdings Group's chain stores—Ito-Yokado, York Mart and York-Benimaru—across Japan.
Ito-Yokado issues "2recycle points (worth 0.2 yen) "per plastic bottle, which shoppers can use for their store purchases. In other words, customers are given discounts for helping to recycle plastic bottles, and stores can expect greater customer traffic and sales.
Tomra RVMs are thus helping the establishment of a sustainable "plastic bottle to plastic bottle" recycling system that works in coordination with large retailers, beverage and container manufacturers, and recycling and logistics partners.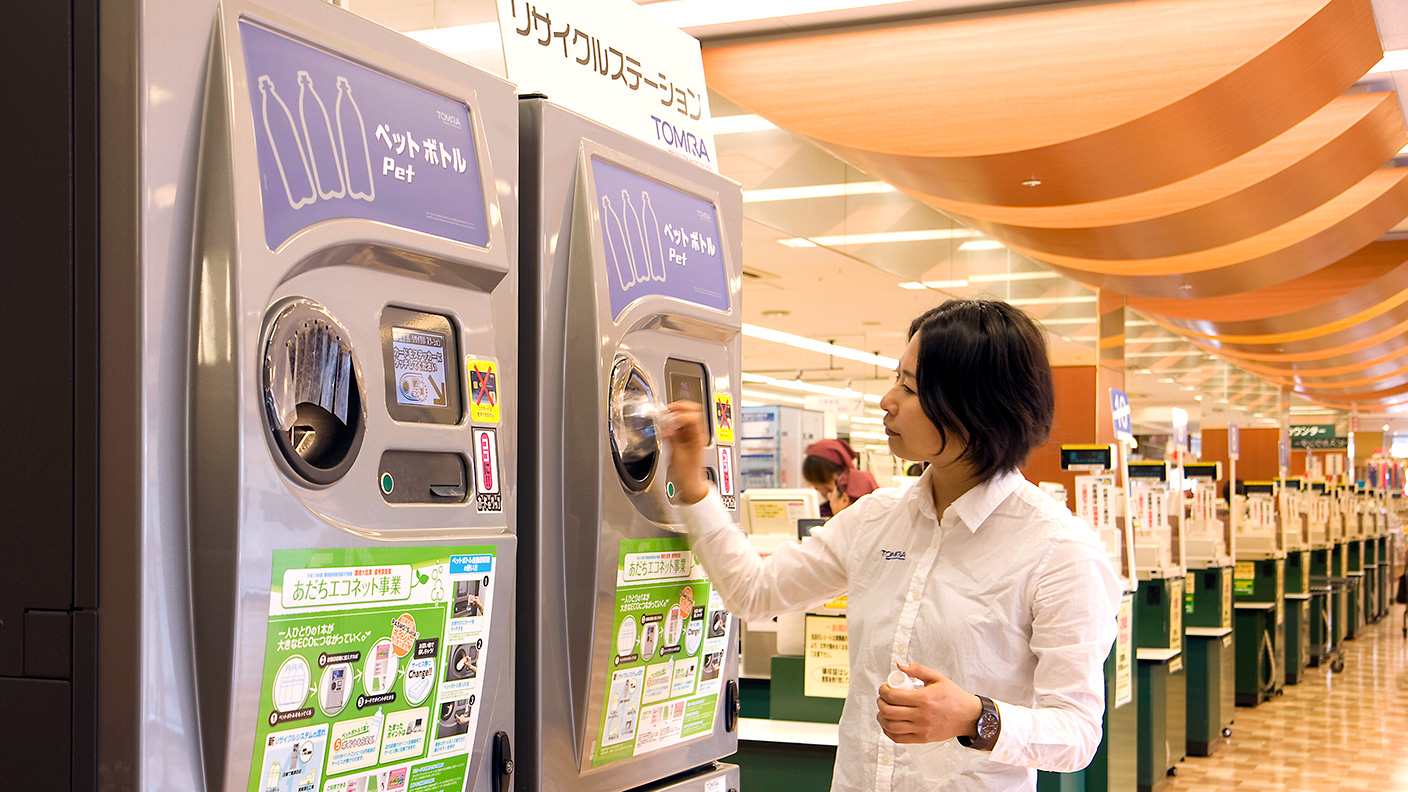 Encouraging children to learn about recycling
Currently in Japan, about 600,000 tons of polyethylene terephthalate resin is used to make plastic bottles a year. In general, the transportation and intermediate treatment of materials to be recycled are the most costly processes. Transporting empty plastic bottles is like carrying air, and thus not economical. Tomra Japan's recycling system sorts and compacts collected plastic bottles before transporting them, and therefore, is dramatically improving the total efficiency of bottles recycling.
At the store, the task of putting a used plastic bottle into a reverse vending machine is very popular among children. Tomra Japan is also collaborating in family bus tours from a store to a recycling facility, organized by Fuchu City, Tokyo. It is also engaged in other activities that help raise society's awareness of recycling.
Tomra Japan will further increase the number of RVM sites not only in the Tokyo metropolitan area and the Chubu area where an increasing number of RVMs have been installed, as well as in other areas, with a main focus at supermarkets and do-it-yourself stores.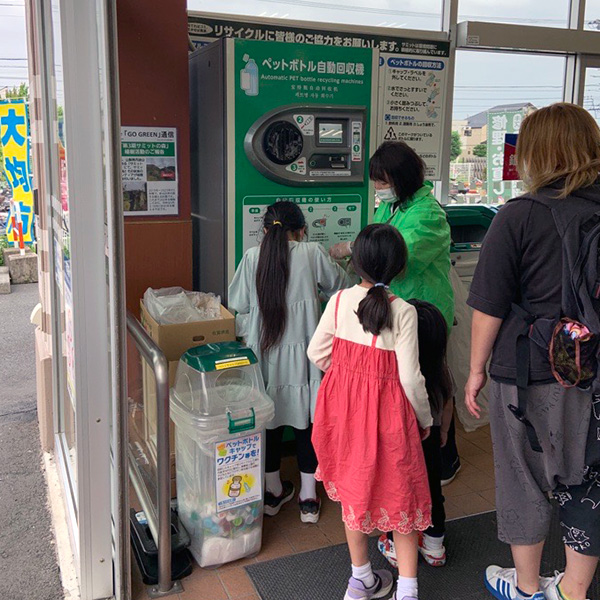 Keyword
Infrastructure Business
Japan
Environment