Global Cases
Japan's largest woody biomass power plant operating on Chita peninsula, Aichi prefecture
Corporate Communications Staff Explores the World
Mass Media Relations Team, Corporate Communications Department

Mai Fukada

Joined the company in 2012. Being in her sixth year, she is now in charge of media relations for environment & infrastructure, chemical, and domestic businesses. In her free time she plays tennis, which she started in her first year of junior high school, and golf, which she started in her first year at the company. When she plays golf, she is good at hitting the ball a long way but has difficulty reading the line and distance. For years, she has been saying, "I will score under 100 this year." Her best score is 100.
Summit Energy as a company of the Sumitomo Corporation Group is engaged in electricity retailing centering on power plants belonging to its own group. In June 2017, Summit Energy's second biomass power plant, the Handa Biomass Power Plant, started its commercial operation. Adjacent to the Port of Kinuura in Handa City, Aichi Prefecture, the plant has a capacity of 75 MW, the largest level of output among Japan's currently operating biomass power plants which allows dedicated combustion of biomass(*). In early October, the plant tour for the press took place.
*Dedicated combustion of biomass: A power generation method in which biomass is only used for power generation as fuel
What is biomass power generation anyway?
In biomass power generation, biological fuels called "biomass," including wood chips made from thinned trees, are burned to generate power. Biomass power generation is categorized as a type of renewable power based on the carbon neutral concept; that is, burning wood chips produces CO2 but the amount of CO2 in the atmosphere will not change because trees absorb CO2 as they photosynthesize in order to grow. Unlike many other methods of generating renewable energy, biomass power generation is not dependent on the weather, meaning it can serve as a reliable source of baseload power. The Handa Biomass Power Plant is mainly fueled by wood chips and PKS (palm kernel shells), which the Materials, Supplies & Real Estate Division procures widely in and outside Japan.
Getting inside the plant
A 10-minute drive from the Meitetsu Chita Handa Station took me to the plant. As I passed through the plant's entrance, I was stunned by the greater-than-expected scale and presence of the building and the vastness of the premises. Lined up on the 4.3-hectares premises were a boiler, three biomass tanks, a cooling tower and an administration building. The height of the boiler building is about 54 meters, which is equivalent to that of Nagoya Castle. Including the highest exhaust stack, the height exceeds 80 meters. This plant is operated and administered by a subsidiary of Summit Energy, Summit Handa Power. Trucks loaded with 20 tons of wood chips arrive at the plant one after another. A truck dumper discharges wood chips into the receiving port. Wood chips, from which foreign matter is removed as they travel along the transport conveyer, will be kept in the biomass tank for several days before being transported to the boiler. At the Handa Biomass Power Plant, all facilities, including the truck dumper, the conveyer that transports the wood chips, and the tanks, are closed systems to prevent chips from being scattered throughout the neighborhood. The Central Operation Room is staffed by three operators at all times. They monitor and manage the status of power generation around the clock so that in the event of any problems, such as a failure in the fuel conveyance system, recovery work will be started immediately. If the power plant is shut down, it takes at least three days to resume operations. The plant is therefore making daily efforts to supply electricity in a stable manner.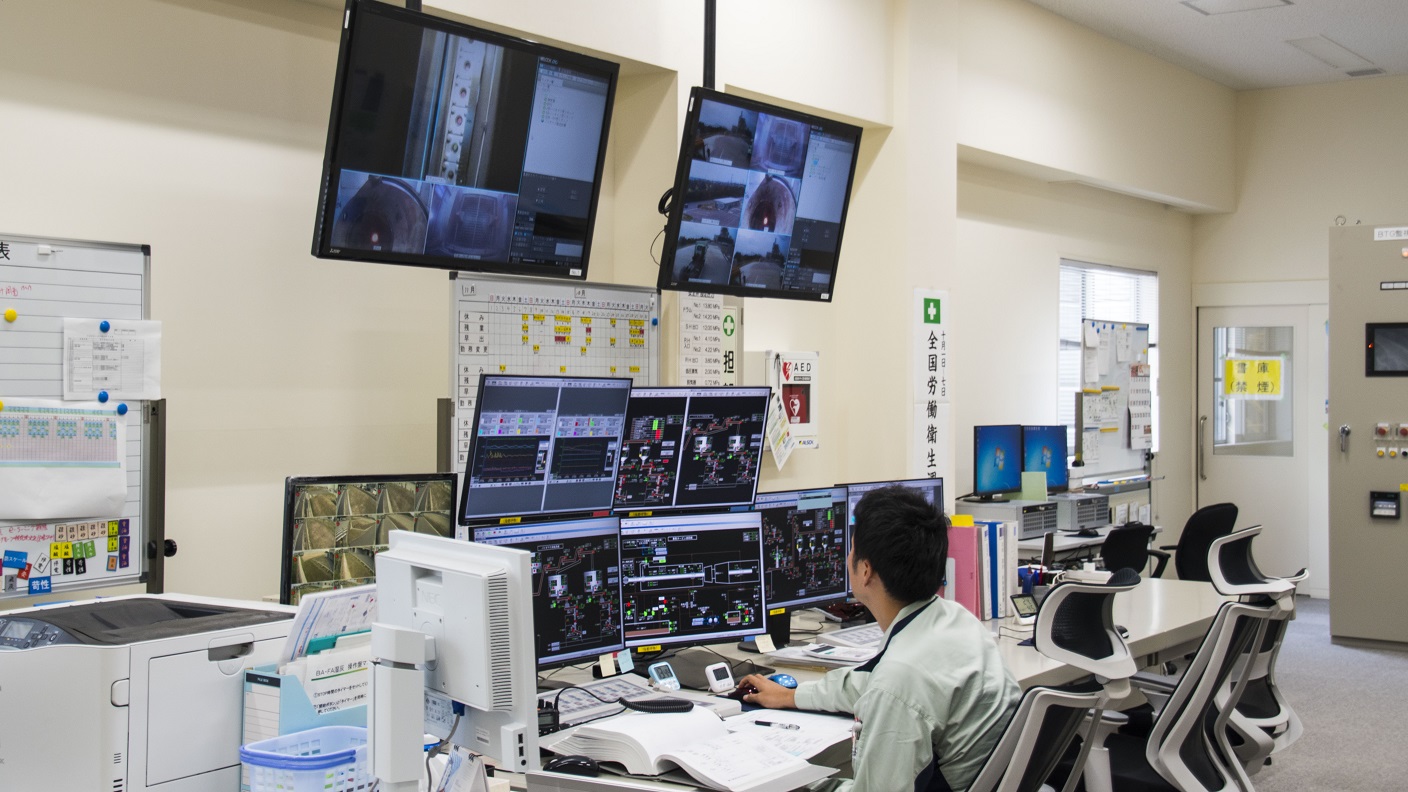 About 6,000 truckloads of wood chips delivered
When I visited the plant a ship that transports wood chips arrived at Kinuura Port and I had the chance to see the unloading of the chips. Wood chips are transported to Kinuura Port seven times a year using a dedicated woodchips carrier vessel. The wood chips are unloaded from the 22-meter-deep hold of the ship with the use of three large vessel gear cranes and a belt conveyer installed on board, and then transported to the chip yard by trucks. At 108,000 cubic meters the capacity of the hold is equivalent to a mindboggling 6,000-odd truckloads, assuming that one truckload is about 18 cubic meters. I was told that it takes five to six days to complete the unloading of chips from the ship.
Chip yard redolent of wood
As I arrived at the chip yard situated 300 meters away from the unloading area, I couldn't help noticing the smell of wood in the air. A number of loading shovels and bulldozers were working to pile up the chips, which were arriving in a constant stream. My concern that the machinery might slip off the piles of chips was unwarranted. In a show of proficient skill, the chips were piled up to a height of 15 meters. Two shiploads, or about 80,000 tons, of chips are stored in the yard. Every day from Monday to Saturday about 1,000 tons of chips leave here for the power plant four kilometers away. In the chip yard, there are several areas where tents are erected with more chips piled within, so that even on rainy days the power plant can be supplied with dry chips.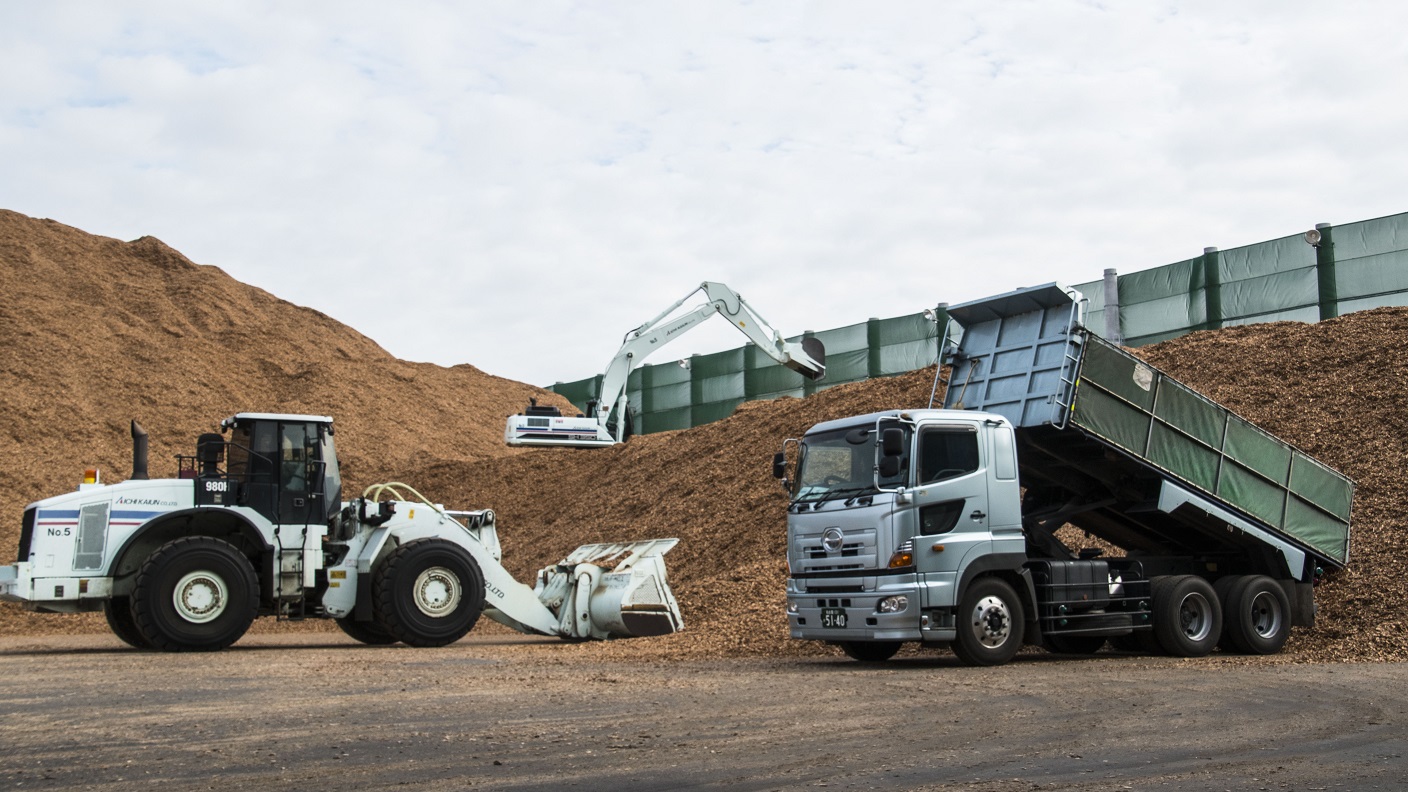 Wood chips vary in moisture content and calorific value depending on the type of wood and place of production. To generate electricity, the power plant therefore burns a mixture of several types of fuel. "We take it as a given condition that we must supply electricity in a safe and stable manner," says Mr. Tomohiro Osawa, the president of Summit Handa Power. "In addition to that, we must pursue fuel proportioning and operation that allows for more efficient and optimal power generation. We are undertaking a process of trial and error every day, but it's worth doing." How fuels are mixed is directly connected to the stabilization of the power supply.
"It will rain soon," predicts Mr. Osawa as he notices a change in the smell of air at the chip yard. His mobile phone in standby mode displays an image of wood chips. If an emergency occurs, employees will rush to the plant, even late at night. Summit Handa Power's work is ongoing even at this moment.
Keyword
Infrastructure Business
Japan
Electric Power Energy
Environment