Global Cases
Striving to provide Japanese technology to meet rising power demand
Corporate Communications Staff Explores the World
Publications Team, Corporate Communications Department

Yuya Tosaka,

After joining Sumitomo Corporation in 2013, he served with an IT-related organization until he was transferred a year and a half ago to the Corporate Communications Department's Publications Team; he is now working on developing new Sumitomo Corporation's corporate website. On weekdays, he struggles with "a pain of creation (umi no kurushimi)" but on weekends, he enjoys fishing with "a joy of ocean (umi no yorokobi)". He considers having fun of utmost importance, whether it be at work or in his private life. Since he was a young boy, his motto has been "Fortune comes in by a merry gate."
Indonesia, the focus of growing worldwide attention, has an economic growth rate of about 5% per year and a gross national product (GDP) that ranks 16th in the world, just behind Spain and Mexico (as of April 2017). Its electric power supply has not kept pace with this economic growth and a sustained rise in population, however, so power sources are being developed at a rapid pace. The total installed production capacity as of 2015 was approximately 55,000MW, of which only about 1,600MW, or 2-3% of the total, comes from geothermal power generation. Indonesia has the world's second greatest supply of geothermal energy after the US, and it will need to find ways of utilizing the 29,000MW of geothermal resources said to be still lying dormant.
Recently, I accompanied media personnel covering Indonesia's power generation business, visiting a geothermal power plant which helps to eliminate the country's power shortages and improve living conditions.
Heading to the Ulubelu Geothermal Power Station on the remote southern end of Sumatra Island
Geothermal power plants are most often constructed in sparsely populated mountainous regions, and the focus of our attention this time, the Ulubelu Geothermal Power Station, was no exception. Located in Ulubelu District, Tanggamus County, Lampung Province on the southern end of Sumatra Island, the power station is three and a half hours by car from the nearest airport, Bandar Lampung. The route there passed through a landscape completely unlike that of downtown Jakarta and, as we turned off the main highway onto a side road, we found ourselves surrounded by orderly rustic scenery with lush broadleaf forests that created a tropical atmosphere, reminding us that Indonesia is a country of perpetual summer.
Passing over fields and mountains, we finally arrived at the Ulubelu Geothermal Power Station. Turbines 1 to 4 are currently in operation, constituting about one-fourth of the total power-generating capacity for Lampung Province. Expectations are high for this project, which is part of the Indonesian government's plan for promoting geothermal power generation. Sumitomo Corporation is involved in geothermal power generation projects in various ways, and it is responsible for commercial affairs and technical coordination for the Ulubelu Geothermal Power Station.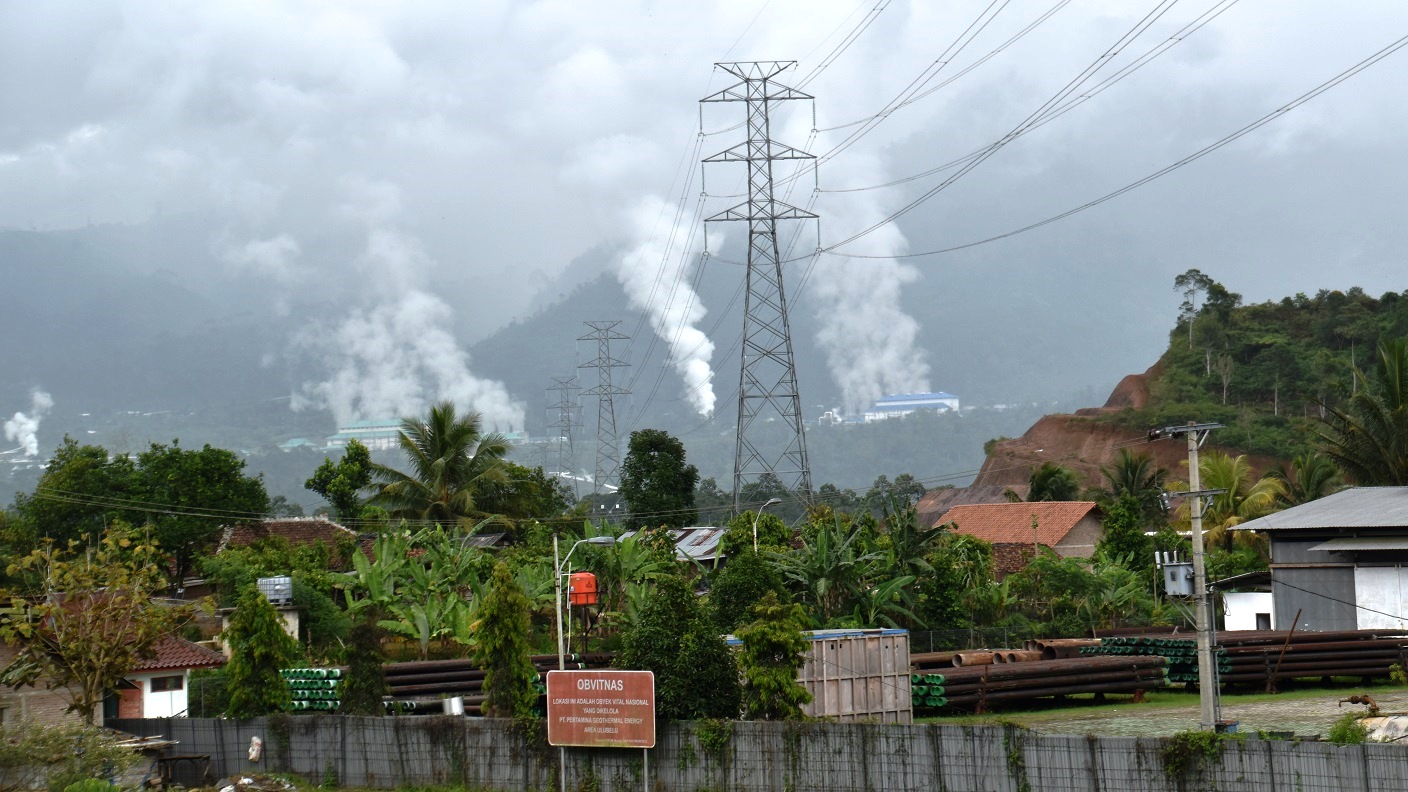 Seeking out the great potential hidden underground
Geothermal power generation derives energy from the steam released by magma-heated water. It is not rare for hot springs to be found at the foot of mountains accommodating power plants, and I was able to see 100℃ hot water spurting up to the surface. As might be expected in one of the world's leading geothermal powerhouses, Indonesia has access to sufficient energy from the Earth to enjoy a reliable supply of electric power 24 hours a day, 365 days a year that is not affected by day and night, weather or other environmental factors. Hot water and steam are drawn up from wells dug 1,000-3,000 meters deep, and the steam needed for power generation and the water to be returned underground are then separated. The steam drawn up is conveyed rapidly all the way to the distant power plant.
Approaching the power generation site
Visitors must complete a safety course before they can enter the power plant's premises, and I was given a thorough explanation of precautions and prohibitions. The facility handles high-temperature water vapor and high voltage, so methodical safety management is essential. At the entrance of the office hangs a poster with "Safety is…" written on top, underneath which were ideas on safety handwritten by contractor company employees, conveying the importance of safety management. Upon entering the power plant, I was first surprised by the large number of people in the central control room. A dozen or so operators were checking the operational status of the power plant displayed on monitors and issuing instructions by radio. Two turbine generators were installed on the top floor of the power plant. The steam carried from the distant well forcefully moves the large turbine, where the mechanical energy is converted into electrical energy that is delivered to Lampung Province and vicinity. Once its work is complete, the steam is cooled in the cooling tower and returned into the ground from a different well for recycling.
Eliminating power shortages and helping improve living conditions
Japanese companies with an eye on Indonesia's economic growth have been actively expanding into the country, as is apparent from the fact that the vast majority of vehicles on the roads there are Japanese cars, and Indonesia has put in place useful mechanisms to facilitate this expansion. Sumitomo Corporation is no exception in this regard, and it has a track record of working with another Group company, Sumisho Machinery Trade Corporation, in geothermal projects that account for about 50% of Indonesia's total installed geothermal power generation capacity. The approach that best uses the know-how thereby cultivated entails exporting high-quality infrastructure by Japanese companies, and it is anticipated that this will help eliminate power shortages in Southeast Asian countries and elsewhere.
(Bonus) Gourmet Chronicles
"Delicious!" was the only thing I can say about the first Indonesian dishes I tried locally. The richly aromatic and uniquely Southeast Asian spices blended with the chicken to create an indescribably amazing taste. The Japanese cuisine I had at the home of the representative was also extremely tasty, and I could not hide my surprise at how genuinely Japanese it tasted despite the ingredients having been procured locally.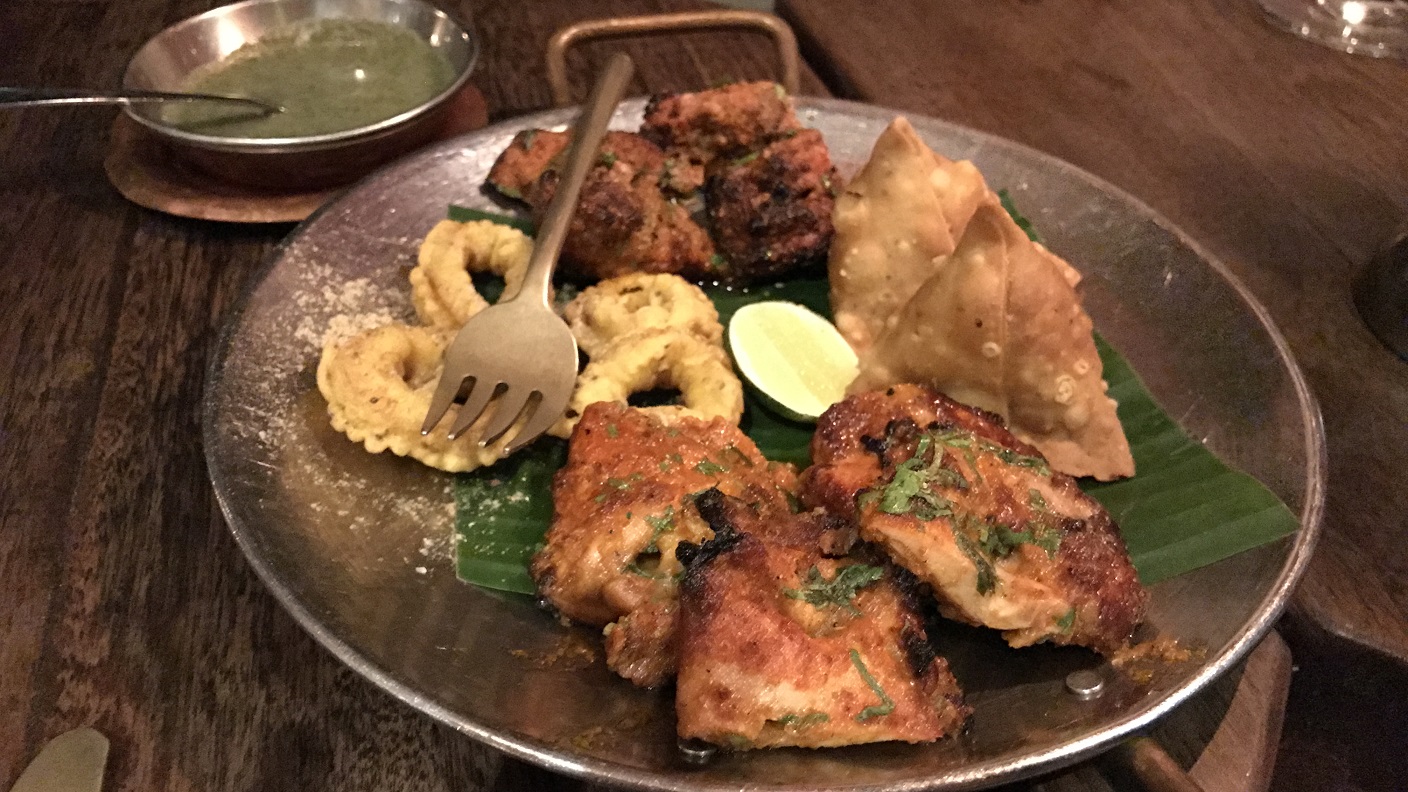 Keyword
Infrastructure Business
Asia and Oceania
Electric Power Energy
Environment