Global Cases
What the family drugstore Tomod's sees beyond automated drug dispensing
Corporate Communications Staff Explores the World
Mass Media Relations Team, Corporate Communications Department

Haruka Nukaya,

Since joining Sumitomo Corporation in 2018, I have been in charge of media relations of the Living Related and Real Estate Business Unit and Europe, as well as media surveys. Up until high school graduation, I spent my time taking piano and tea ceremony lessons. In my college days, I studied in Germany for two years. As I finished my first year in the work force, I have decided to take better care of my body, which had definitely changed due to lack of exercise; I set my mind to restarting classic ballet, which I had learned since I was three years old. For the time being, my goal is to exercise my semicircular canal to keep up with the rapidly changing business environment.
Sumitomo Corporation started a demonstration experiment of automated drug dispensing on February 1, 2019 at the Matsudo-shinden store of Tomod's, the drugstore chain with prescription departments. Introducing a total of nine units of seven different types of machines, the experiment tries to automate or semi-automate about 90% of a pharmacists' operation, including weighing, mixing, dividing and collecting pharmaceuticals. For the first time in Japan, the experiment uses multiple large-scale machines in a pharmacy to improve service quality, which includes improving the efficiency of pharmacists' operation, further enhancing face-to-face services for patients (such as instruction on the use of drugs) and reducing waiting times. Tomod's provided a media tour of its Matsudo-shinden store where the demonstration experiment is ongoing.
Introducing machines to improve pharmacists' operation
Conventional operation at prescription departments is as follows: A pharmacist receives a prescription and locates the prescribed drugs from the prescription shelves where hundreds of different types of drugs are stored. If the prescribed drug is in pill form, he/she takes sheets of pills out of a box, cuts the sheets for the patient to take, and bundles the required quantity. If it is in the form of a powder or syrup, he/she measures the drug using a dedicated beaker and mixes it. If it is in ointment form, he/she takes an appropriate amount with a spatula and stirs it for about 15 minutes.
How will these operations be automated with machines? I would like to introduce some machines that particularly drew my attention.
One example of automation is the powder preparation machine. At Tomod's Matsudo-shinden store, as soon as the machine reads the barcode issued by the hospital located nearby, the prescription will be displayed on the monitor to start dispensing pharmaceuticals. Up to six different types of powder can be put into the orange boxes in the picture below, one type in each, for blending. The required amounts will be automatically measured, blended with other powders, and divided into doses.
I became convinced that these tasks were suitable for machines that could work speedily and accurately, as I had heard that being attentive to prevent human error could be a mental burden on pharmacists.
Another example is a packaging machine that packs multiple drugs per dose for specific timing of dosage, such as morning, noon and night, and a machine that checks whether or not the drugs are packaged per dose as prescribed. Tomod's always stocks about 136 different types of pills and capsules that are frequency prescribed. The service helps prevent the elderly and dementia patients from forgetting to take their medication or missing some doses. "We sometimes prepare as much as 180 doses (medication for two months) at one time," said Yoko Fukui, the pharmacist manager of the store, welcoming the machines. "We sometimes cut our fingers when pushing pills out of packages one by one. It is really helpful that machines can do the detailed work for us."
The last machine, the automated withdrawal shelf, is an example of semi-automation. When the barcode in a prescription is read and the monitor is operated, the drawer of the prescribed drug automatically opens, saving the trouble of finding it. The shelf stores drugs that are infrequently prescribed, seasonal drugs, eye drops, ointments, and so on. Although the machine needs manual work to divide the collected drugs into the required doses, it reduces the time needed for the cumbersome work to find drugs from shelves and improves efficiency.
I experienced a demonstration of collecting drugs. Even though it was my first time, I could do the work speedily without uncertainty. Now I understand that improving work efficiency helps pharmacists focus more on instructing patients on the use of drugs.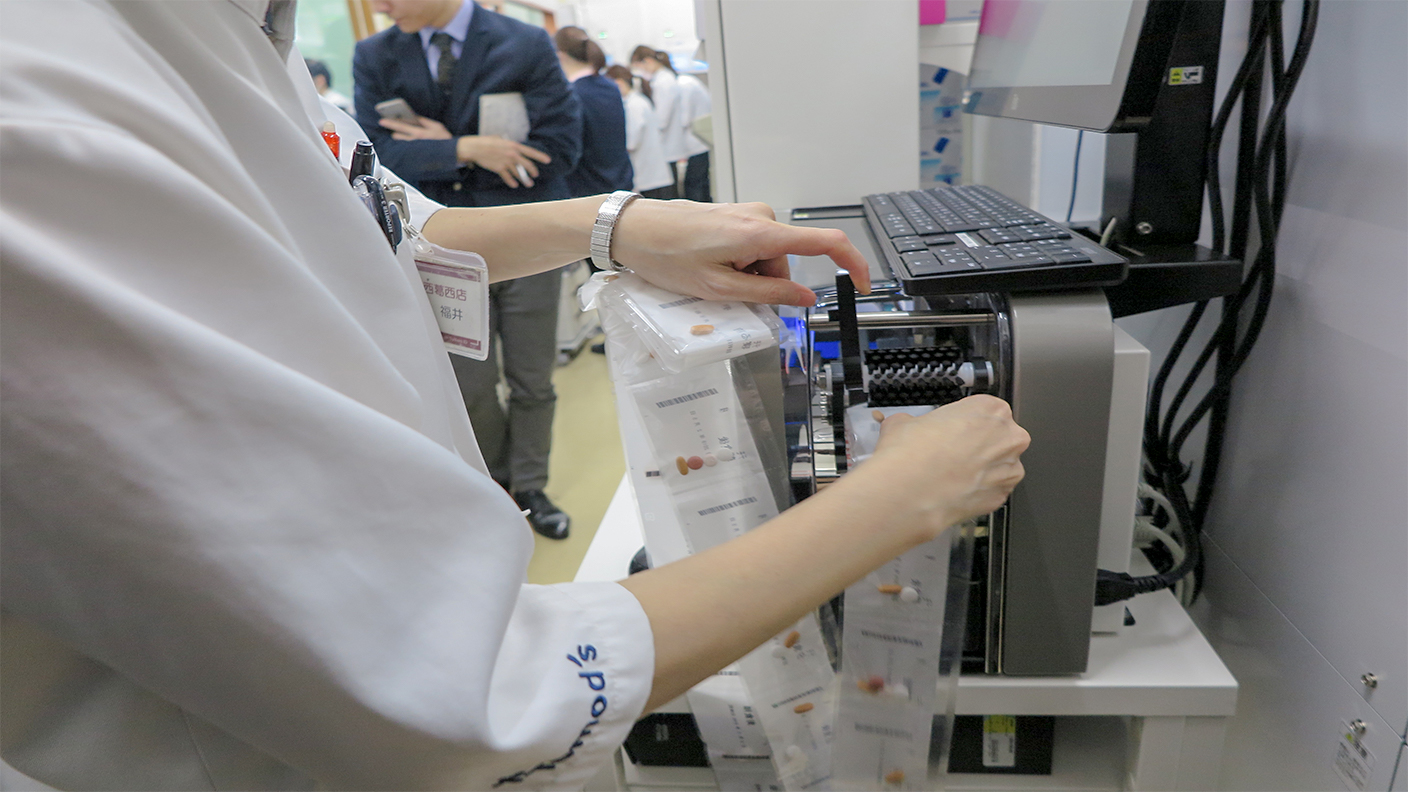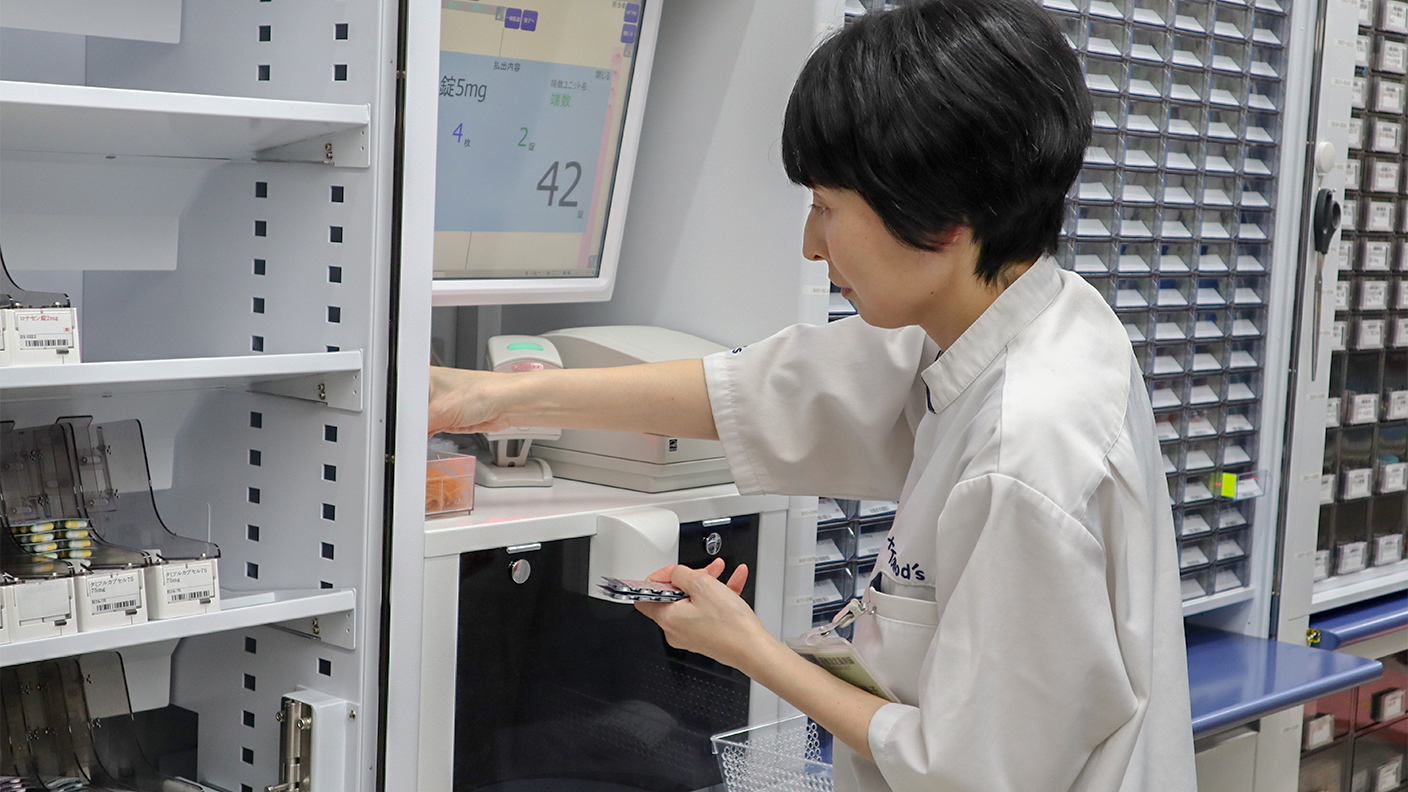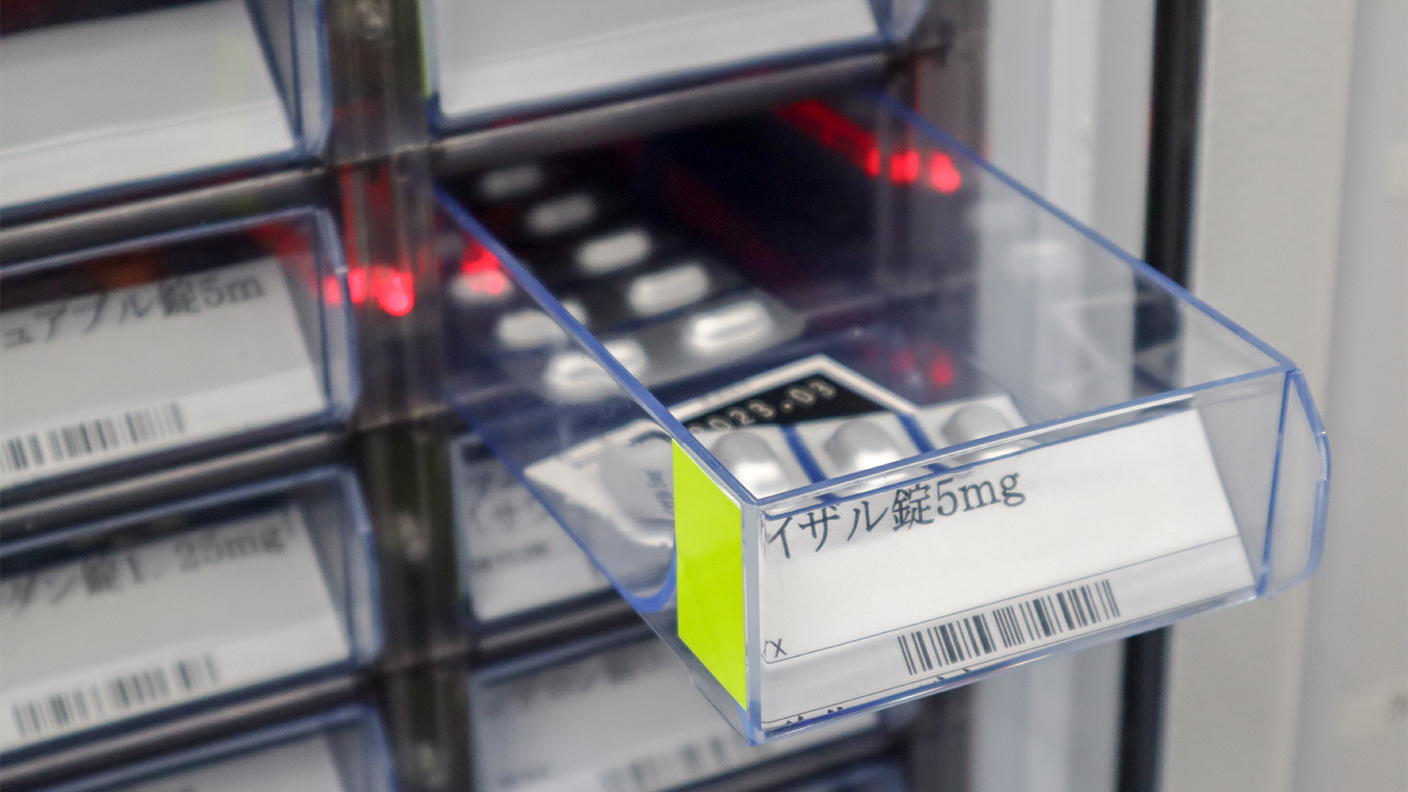 Playing a role in medical care as a pioneer of family drugstores
Tomod's was born with the corporate philosophy of being a "family drugstore" 25 years ago. Although it initially used a red logo with a flower-patterned interior design, it transformed its image with a blue logo so that its stores would capture a broader range of customers regardless of gender or age. With the aspiration to increase its customer base to play a greater role in medical care, Tomod's increased its number of stores to 172 (as of the end of February 2019), located primarily in the Tokyo metropolitan area.
The Tomod's Matsudo-shinden store in Matsudo City, Chiba Prefecture, where the demonstration experiment is ongoing, has a larger prescription department that handles about 5,500 prescriptions per month, compared to ordinary stores that handle 2,000 prescriptions per month at most. In order to level out the number of prescriptions for seasonal symptoms, such as influenza and hay fever, the demonstration experiment will be carried out for about a year and a half. Depending on the effectiveness of this experimental operation, the number of stores introduced with the machines will increase..
"By developing an environment where pharmacists can exercise their occupational expertise to the greatest extent possible, we would like to enhance the function of Tomod's as a family drugstore through this experiment," said Itsuko Komuro from the Health Care Business Department. "We would also like to create a new mechanism that benefits both pharmacists and patients." I felt her passion as I saw her take on new challenges by utilizing her experiences as a store manager as part of her in-store training program at Tomod's
Continuing to explore great possibilities with the changes of the times
In 2025, when the postwar baby boom generation (*1) will reach 75 or older, national medical expenditure is likely to increase to 61 trillion yen from 42.2 trillion yen (2017). To ensure the sustainability of social security, the Japanese government is promoting a community-based integrated care system, which aims to provide integrated and continued medical and nursing care at home through cooperation among community-based medical and nursing care organizations. This aims to provide people with the option to live as they wish to in their familiar environment until the end of their lives, even when they are in serious need of nursing care. Family drugstores, which exist all across Japan and where medical care professionals are on duty at all times, could function as a linchpin in the community-based integrated care system.
"Tomod's aims to contribute to the development of the local community and the industry through the expansion of business related to health care, home care and medical care, while providing various functions that only an integrated trading and business investment company can provide," said Yoshiyuki Yamaguchi, director of Tomod's who is a secondee from Sumitomo Corporation. The momentum of Tomod's, which has led the industry since its foundation, will further accelerate in summer 2020 when the demonstration experiment is due to end.
*1 Baby boom generation: The generation born during the so-called "the first baby boom" between 1947 and 1949
Bonus 1: Young trading company employee of a trading company
Kazuki Juba from the Health Care Business Department, who is in charge of Tomod's together with Komuro, experienced four-months' in-store training at Summit Store supermarket when he was a second-year employee at Sumitomo Corporation. Wearing the Summit uniform instead of a business suit, he worked earnestly every day, displaying products, operating a cash register, and cooking and processing boxed lunches. Looking back on those days, he said, "Working on the front line, interacting with people, and understanding the real situation and issues, I learned the importance of having a diverse perspective. That helps me in my work at Tomod's." As he knows the importance of the front line, he takes issues in the health care industry very seriously and pushes himself to open up the future of Japan's medical care. As such, I realized that he was a highly qualified businessman.
This is my first experience where I was exposed to the significance of business as well as the feelings and enthusiasm of the persons in charge through a media tour. As you get to know and understand the business and people more profoundly, it allows you to like your company even more, and tp want it to be recognized by more people. I was excited to learn that this is one of the crucial roles of the Corporate Communications Department.
Bonus 2: Gourmet chronicles
On the day of the media tour, I had lunch at an eating space at Summit Store Matsudo-shinden branch, located next to the Tomod's Matsudo-shinden store.
From among the numerous deli items, I chose rice and curry served with fried chicken with tartar sauce and tomato sauce (this product was available only during a special event introducing gourmet food from Kyushu between February 13 to 17).
Keyword
Living Related & Real Estate Business
Japan
General Products
Retail Service Operations