Global Cases
Tomod's is endeavoring to expand its services and promote DX in order to support the health of regional residents and enrich their lives
Japan
A "family drugstore" that combines a drugstore
with dispensing function
Tomod's was first established in 1993 as a "drugstore with dispensing function" nearly 30 years ago. At that time, the "separation of dispensary from medical practice" had begun, with the provision of medicines shifting from hospitals to dispensing pharmacies. Tomod's quickly caught onto the trend and started its business. To serve as a "family drugstore" that helps keeping the health and well-being of people in the community by selling medicines and daily necessities and providing dispensing pharmacy function— that is the philosophy of Tomod's that has remained unchanged since its founding.
Since then, Tomod's has continued to open new stores, mainly in the Tokyo metropolitan area, while also taking on new challenges. In 1997, Tomod's acquired "AMERICAN PHARMACY," a drugstore catered to Americans living in Japan. In 2012, the color of the logo was changed from red to midnight blue. The number of Tomod's stores stood at 236 as of September 2022. Of these, more than 70% (179 stores) are equipped with dispensing function.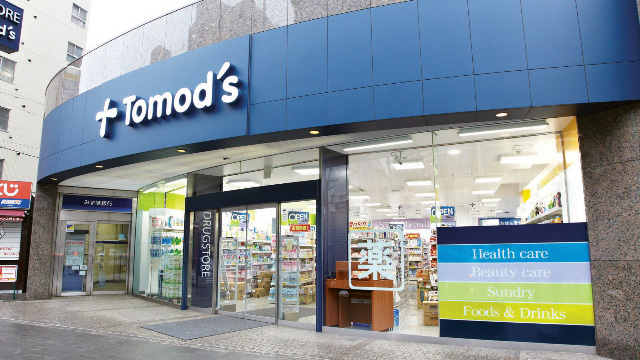 Various initiatives to support community healthcare
In about 30 years since Tomod's opened its first store, the aging of Japan's population has progressed at a pace unparalleled in the world. In Japan, where the average life expectancy is increasing and the country is entering the "100-year life era," how to extend healthy life expectancy has become a crucial issue for society. As one solution, the government is promoting a "Community-based Integrated Care System."
The goal is to provide comprehensive and continuous home medical care and nursing care in cooperation with local medical and nursing care institutions. That is the concept of the "Community-based Integrated Care System." In this social initiative, Tomod's, which aims to become a "family drugstore" staffed by resident pharmacists and nutritionists, is now increasingly playing an important role.
One of Tomod's approaches to community healthcare is its "home dispensing service" that started in 2017. For this service, Tomod's staff visit the homes of elderly or bedridden patients to provide medication and guidance. Currently, about 60% of stores with dispensing function offer home dispensing service. Due to a large number of requests from its customers, Tomod's is planning to expand the number of stores offering this service.
"Collaboration in medical treatment, nursing, and welfare" is another way to improve the quality of regional medical care. The aim of this initiative is to attract clinics to the upper floors of Tomod's stores and neighborhoods, etc., to provide support for their opening a medical practice, and to realize collaboration between medical institutions and dispensing pharmacies. This is a relatively new approach, and many projects are under consideration. Some cases have actually attracted medical institutions.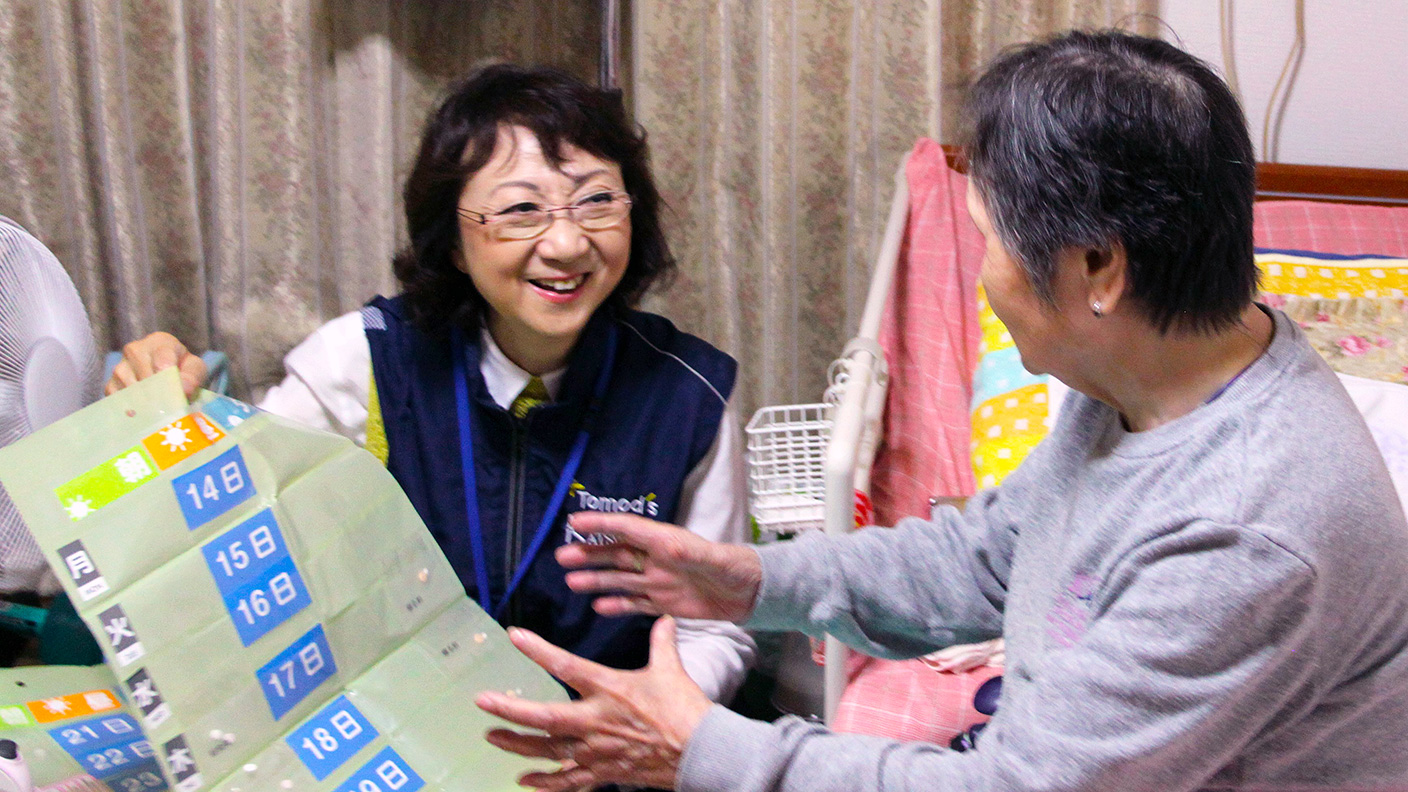 Improving patient convenience, safety and security with DX
At the same time, digital transformation (DX), which aims to streamline operations and improve the quality of store services, is steadily advancing. In 2019, Tomod's began a demonstration of "fully automated dispensing" operations, already installed at two stores.
By setting up a total of nine machines comprising seven different types in the store, "fully automated dispensing" will mechanize about 90% of the work that was typically done by pharmacists, such as weighing, mixing, dividing, and collecting medicines. This streamlines operations and shortens customers' waiting time. It also reduces the psychological pressure on pharmacists "not to make mistakes," which in turn leads to higher satisfaction for fellow workers. Above all, the greatest benefit is a reduction in pharmacists' workload, allowing them to spend sufficient time communicating with customers.
The introduction of the fully automated dispensing system has attracted a great deal of attention, and many medical professionals have visited the stores to see the system in action. In addition, Tomod's wide range of DX initiatives include the introduction of the Tomod's app, the prescription submission LINE app, online medication counseling, and the expansion of the e-commerce site. It is our hope that the entire dispensing industry will utilize more DX in the future, further improving the convenience, safety and security of patients.
One of the automatic dispensing machines: A powder dispenser. The machine weighs the required amount and mixes it with other powders to make separate doses for each single dose. Japan's first full-scale automated dispensing system.
Expanding health support in cooperation with Summit Stores
In addition to dispensing medicines, Tomod's also focuses on sales of medicines, cosmetics, and daily necessities. Tomod's is working on various initiatives to fulfill its role as a retailer that connects manufacturers and customers, such as providing samples in cooperation with manufacturers and offering coupons through the Tomod's app.
Recently, Tomod's has been collaborating with "Summit," a food supermarket belonging to the Sumitomo Corporation Group to launch the "Healthy Community Corner" service. Commonly known as "Kenkomi," the service allows customers to check their health status in-store using health measurement devices and to receive nutritional guidance from Tomod's resident nutritionists. Starting at the Summit Hatogaya station square store, Kenkomi is now offered at four stores. Through health advice and the introduction of healthy recipes, we aim to play a part in helping local customers enjoy a rich life.
In the future, by opening more stores in partnership with Summit, Tomod's hopes to increase the number of "one-stop health support stores," where customers can receive nutritional advice and purchase foodstuffs within a single store.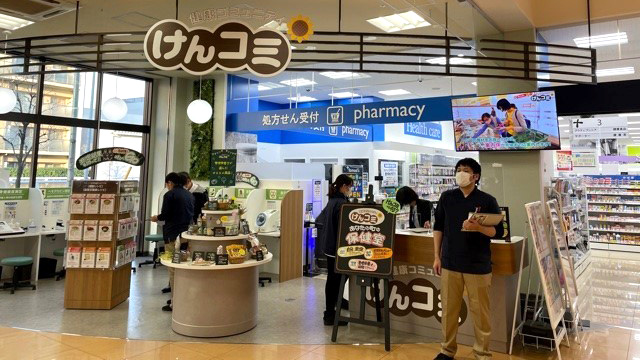 Combining professional skills with thoughtfulness
For a "family drugstore," careful and meticulous communication with patients and customers is required, and it is the power of "people" that makes such communication possible. Tomod's defines the traits required by its workers as "cheerfulness, honesty, humility, and thoughtfulness." Among them, particular emphasis is placed on "thoughtfulness."
Pharmacists and nutritionists require specialized skills, and product sales staff are also required to be certified as registered medicine sellers. However, specialization alone is not enough to realize a store that is truly needed by customers. After acquiring specialized skills, workers must face each customer with thoughtfulness and build a relationship of trust so that customers will say, "I go to Tomod's because I want to see that person." That is our goal.
From now on, Japan's population will continue to age, and the importance of community healthcare will increase. Tomod's will continue to take on new challenges with the aim of becoming the most trusted "family drugstore" that supports the health of people in communities and enriches their lives.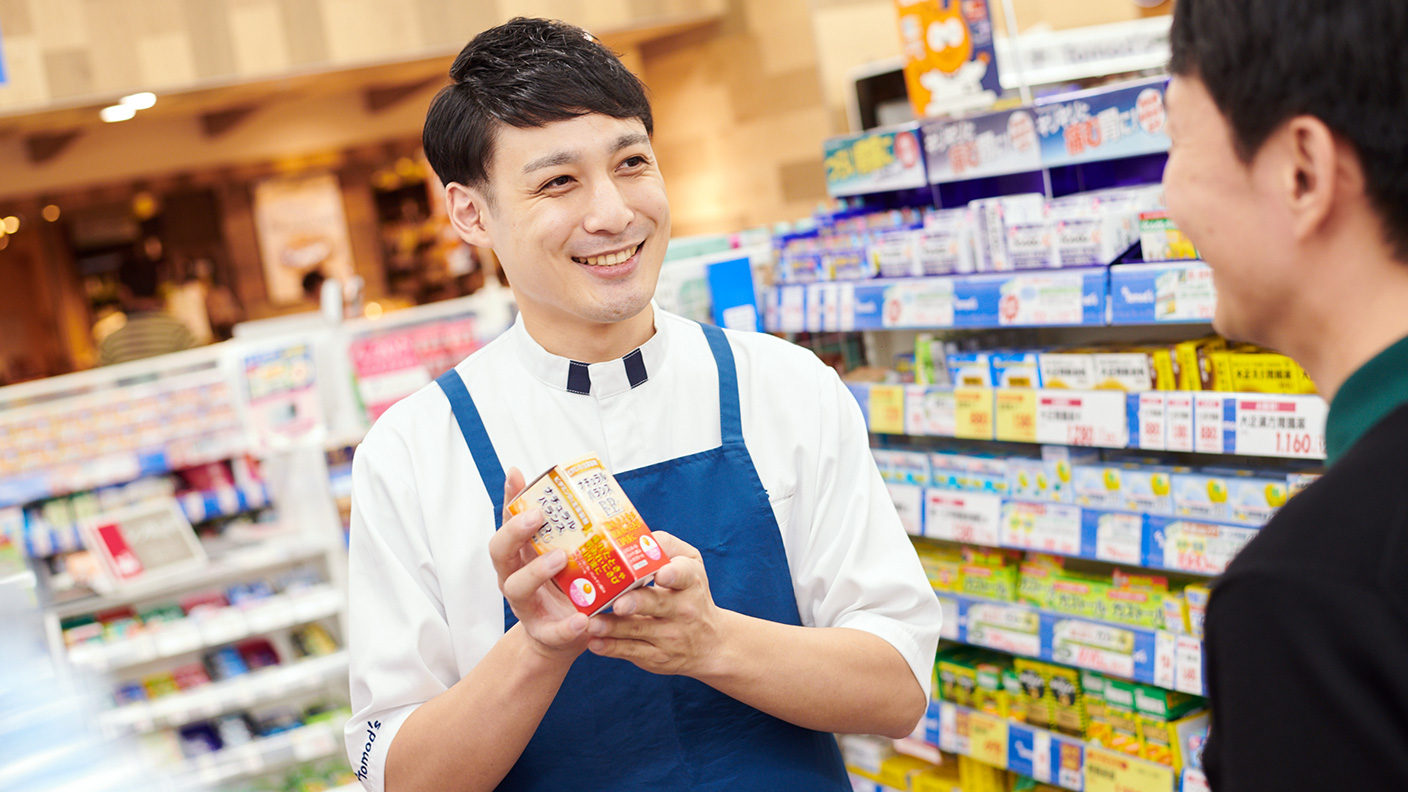 Keyword
Living Related & Real Estate Business
Japan
East Asia
Retail Service Operations