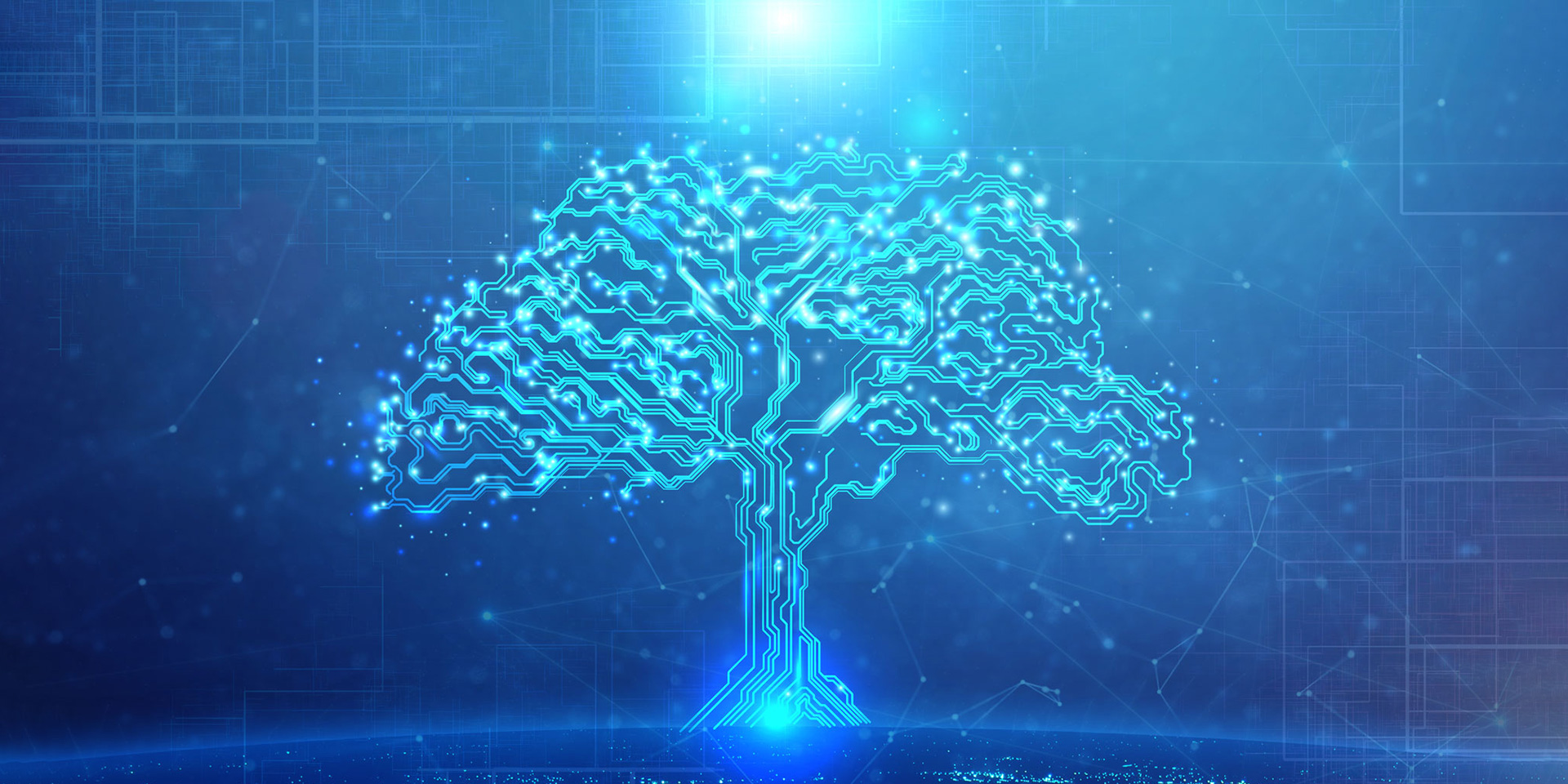 Global Cases
Digital transformation (DX) driven by cutting-edge technologies
global
Reforming the organization, structure, and corporate culture through Digital Transformation (DX)
Sumitomo Corporation Group is pursuing Digital Transformation (DX). For instance, we create new value by incorporating digital technologies into our current wide range of industry fields and also provide cross-industry solutions to social issues.
In April 2018, an organization dedicated to DX, the "DX Center", was established under the Digital Business Division.
Since then, we have been working with approximately 150 people worldwide to pursue DX. We also have been collaborating closely with SCSK, an IT service company in Sumitomo Corporation Group. As a result, more than 300 DX projects have been created. Furthermore, we have been establishing systems to promote DX, such as expanding our corporate venture capital (CVC)*1 fields and conducting the accelerator business in the hardware domain through HAX Tokyo.*2
Promoting cutting-edge innovation through collaboration with startups
Corporate venture capital: An organization activity that provides investment and support with funding composed of a company's own capital, primarily for unlisted startup companies
HAX Tokyo: HAX is an accelerator program (an initiative that performs such activities as the provision of the knowledge and experience necessary for new business creation and project development to startups that are in the possessions of innovative technology and business models, and accelerates growth) related to hardware such as robotics and IoT for startups that boasts a global track record, and HAX Tokyo is jointly managed by Sumitomo Corporation, SOSV (a U.S. venture capital that is the management body of HAX), and SCSK.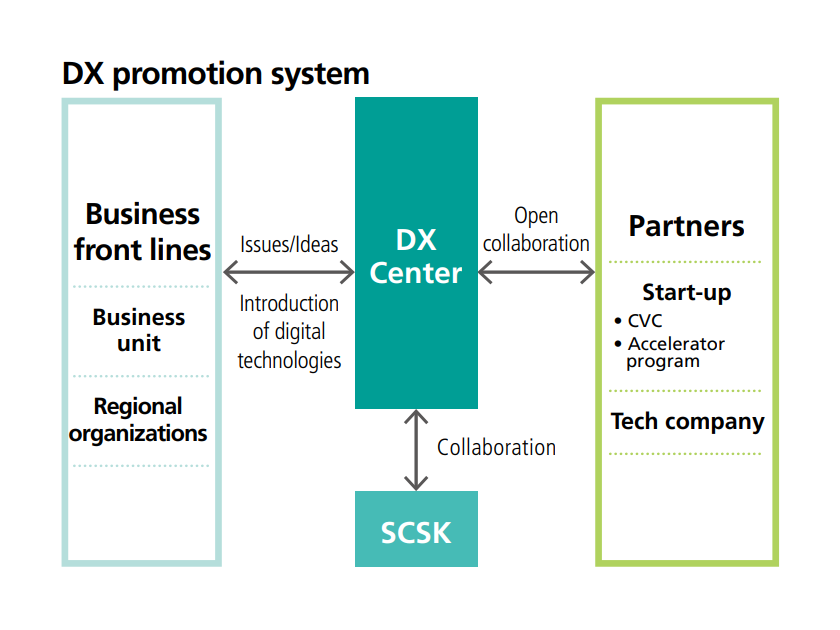 SHIFT 2023 Next-generation growth fields

We are also pursuing DX for the purpose of business reform and new business development. This involves a broad spectrum of business areas we have engaged in over the years as well as the five next-generation growth fields―energy innovation, social infrastructure, retail/consumer, healthcare, agriculture―specified in our medium-term management plan SHIFT 2023.
Going forward, we will step up group-wide efforts to further expedite and expand DX implementation. Major plans on the table include joint development with startups and open collaboration with leading players and tech companies in each industry. Application of quantum computing technology is under consideration with a view toward creating cross-industry business models from a medium- to long-term point of view. These group-wide DX initiatives are expected to accelerate our corporate transformation (CX).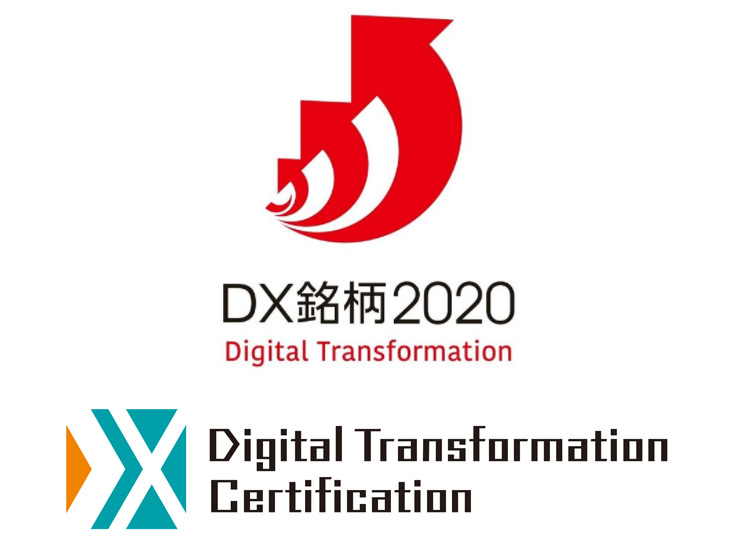 In recognition of such proactive corporate change and instilment of DX into the company's foundation, our company was selected as Digital Transformation Stock (DX Stock) 2020 and Noteworthy DX Company 2021 by the Ministry of Economy, Trade and Industry (METI) and the Tokyo Stock Exchange and as a "DX Certified Business Operator" under the "DX Certification" established by METI.
The entire Sumitomo Corporation Group around the world will come together to take on the challenges of solving social issues through DX and creating a smart society in which people can enjoy their lives in comfort.
Establishment of DX technology subsidiary
In July 2019, Sumitomo Corporation established Insight Edge, a DX technology subsidiary. Its engineering teams are composed of AI engineers, IT architects, full-stack engineers, UI/UX*3 designers, and others. The company offers capabilities to promptly implement measures and plans to resolve issues, such as for AI applications and data analysis, which are key functions for DX implementation.
For example, trade, retail and other service sectors are calling for improved efficiency in market forecasting, demand prediction, credit decisions, and inventory optimization. In factories and plants, one pressing issue is to raise operational quality for defect detection and predictive maintenance. Insight Edge will solve these challenges using AI applications and data analysis functions. The company has undertaken more than 100 DX projects since its launch (as of June 2022), and has built a system to accumulate know-how and technical knowledge and share it within the group.
Also, we conduct the development of web and smartphone applications that are necessary for new business development and digitalization of operations by using the agile development methodology.*4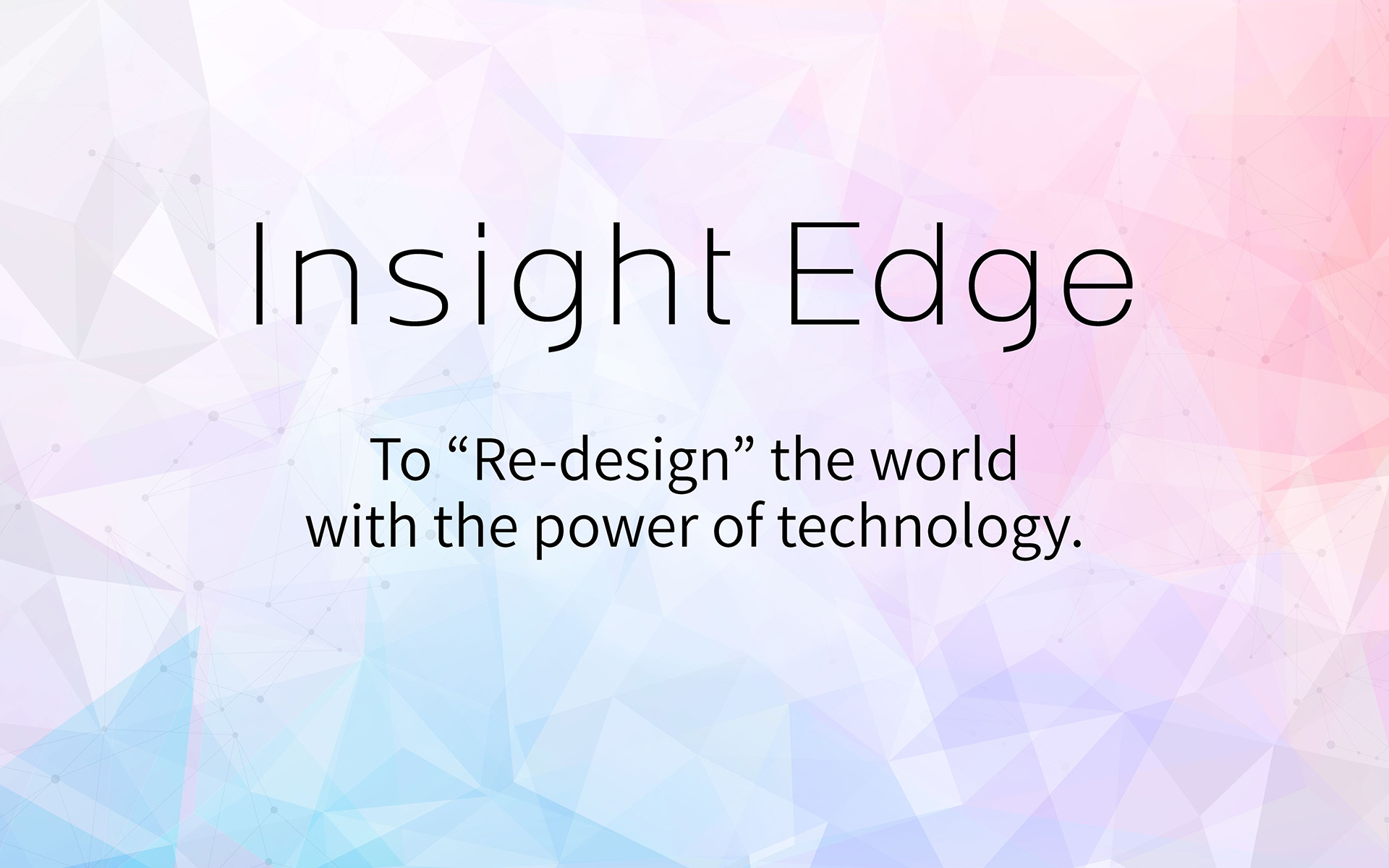 We are providing different ways to draw close to commercialization through getting feedback from customers, conducting business feasibility verifications, etc.
In AI projects and new business development, it is necessary to quickly execute cycles of trial and error. We are accumulating experience and knowledge acquired through individual projects and continuing to make efforts that lead to further value creation.
UI/UX: User interface (all visual information that a user comes into contact with when using a product or service) / user experience (all sensations and experiences that a user comes into contact with when using a product or service)
Agile development methodology: A general term for a methodology that involves conducting development while making revisions and that is faster and more flexible than the conventional method of launching development after creating a detailed plan of the final functionality and development process. It is effective for such projects as the development of prototype software using advanced technology.
Examples of solutions provided by Insight Edge
One major customer in Japan is Summit Energy, an electric power retailer in the Sumitomo Corporation Group, which sells electricity to households through JCOM, another group company. Over a number of years, Summit Energy has developed a battery of AI-enabled programs in-house to manage power demand and prices for the purpose of running day-to-day operations and developing new businesses. Insight Edge has begun to provide technical advisory service to power retailers in response to their need for increased sophistication of AI-driven development and analysis. Among major examples from outside Japan are solutions offered to a construction equipment leasing company. Such solutions include algorithmic optimization of previously human-intensive tasks, such as delivery planning.
Insight Edge also provides solutions to support new business development. These specifically include simulation models aimed at higher success rates as well as AI and data analysis functions to be offered as a value-added proposal to win target orders. The company offers digital-savvy analysis capabilities to help business investment decisions. Going forward, Insight Edge will continue working to support customers with value creation and business reform activities.
Expanding Global CVC investments
In 1998, Sumitomo Corporation established the startup investment firm Presidio Ventures ("Presidio") in Silicon Valley in the US. As a corporate venture capital (CVC) investor, Presidio has invested in startups possessing innovative technologies and business models and has been creating new business opportunities for more than 20 years.
Following the US, we have advanced into Europe (Presidio Europe), Israel (IN Venture), and Hong Kong and Shanghai (Sumitomo Corporation Equity Asia), while establishing SC Venture Partners in Japan. Based in these five regions, we aim to promote collaboration with startups through CVC investment on a global scale. And we will deploy effective collaboration strategies to actively integrate cutting-edge technologies and innovation in order to increase the value of existing businesses and create new businesses for the next generation.
Keyword
Metal Products Business
Transportation & Construction Systems Business
Infrastructure Business
Media & Digital Business
Living Related & Real Estate Business
Mineral Resources, Energy, Chemical & Electronics Business
Japan
East Asia
Asia and Oceania
Europe
CIS
Middle East, Africa
The Americas
Information Telecommunications