Financial Highlights

Annual
Profit (loss) for the year attributable to owners of the parent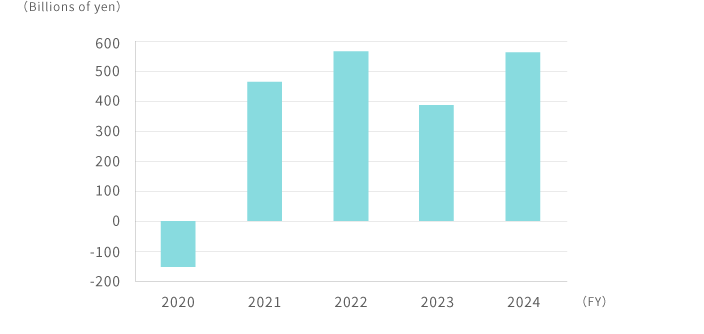 Gross Profit
Share of profit (loss) of investments accounted for using the equity method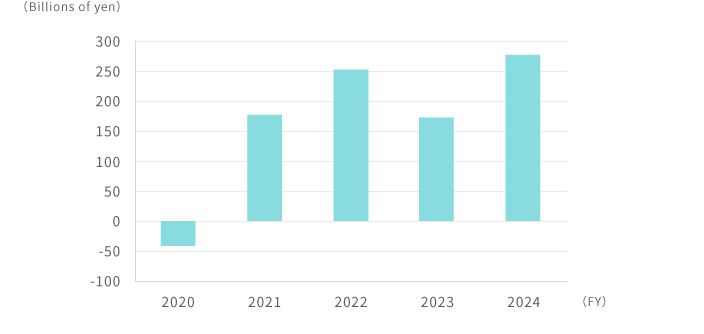 Total Assets, ROA
Equity attributable to owners of the parent, ROE
Earnings per share attributable to owners of the parent (basic) and Equity per share attributable to owners of the parent
Debt-Equity Ratio (net) (Times)
Equity attributable to owners of the parent ratio
(Billions of yen)
(For the years ended March 31)
2018
2019
2020
2021
2022
Gross Profit
923.2
873.7
729.5
1,009.6
1,234.8
Share of profit (loss) of investments accounted for using the equity method
127.1
84.8
-41.4
176.8
252.4
Profit (loss) for the year attributable to owners of the parent
320.5
171.4
-153.1
463.7
565.3
 
Total Assets
7,916.5
8,128.6
8,080.0
9,582.2
10,105.4
Equity attributable to owners of the parent
2,771.5
2,544.1
2,528.0
3,197.8
3,778.7
Interest-bearing liabilities (net)
2,427.1
2,468.8
2,300.4
2,273.7
2,484.4
 
Equity attributable to owners of the parent ratio (%)
35.0
31.3
31.3
33.4
37.4
ROE (%)
12.0
6.4
-
16.2
16.2
ROA (%)
4.1
2.1
-
5.3
5.7
Debt-Equity Ratio (net) (Times)
0.9
1.0
0.9
0.7
0.7
 
Net cash provided by (used in) operating activities
268.9
326.6
467.1
194.1
232.8
Net cash provided by (used in) investing activities
-51.3
-203.4
-120.1
49.0
-91.5
Free cash flows
217.6
123.2
347.0
243.1
141.3
Net cash provided by (used in) financing activities
-233.2
-57.7
-466.4
-139.9
-250.5
(Yen)

| (For the years ended March 31) | 2018 | 2019 | 2020 | 2021 | 2022 |
| --- | --- | --- | --- | --- | --- |
| Earnings per share attributable to owners of the parent (basic) | 256.68 | 137.18 | -122.42 | 370.79 | 452.63 |
| Equity per share attributable to owners of the parent | 2,219.11 | 2,036.48 | 2,022.83 | 2,558.24 | 3,061.92 |
Please have a look at financial data based on the consolidated financial statements.
The consolidated financial statements have been prepared in accordance with International Financial Reporting Standards ("IFRSs").
The company has applied IAS 12 "Income Taxes" (amended in May 2021) from the three-month period ended June 30, 2023, and figures on this page and in the material below for the prior fiscal year are shown after retroactive application.