Global Cases
A leading mobile phone retail company offering cutting-edge telecommunications services
Japan
T-GAIA Corporation
T-GAIA is a leading Japanese company selling mobile phones and other related products and services since the emergence of the mobile phone.
As one of the largest telecom agents in Japan, the company's retail division provides high quality services and sells mobile phones, tablets and other devices via a network of directly managed stores, secondary agents, and large retail chains.
For its corporate clients, the company provides creative, cutting-edge IT solutions, using its three key strengths: partnerships with all major telecom operators, a nationwide distribution network, and the ability to offer diverse products and services in response to market needs.
Considering the ever growing importance of telecommunication networks in the era of IoT and the need for advanced IT consulting services, T-GAIA is an organization of network service professionals ready to propose the most advanced ICT services to its customers.
Since 2000, T-GAIA has also been selling electronic payment products, such as prepaid cards, through convenience stores and other channels. As its second core business, the company is aiming for greater growth in this segment.
Together with the Quo Brand
Quo Card, which was founded in 1987 and is now a subsidiary of T-GAIA, has built a strong customer base and brand value through the sale of Quo gift cards over many years.
QUO Card Pay is a digital Quo Card payment service for smartphones.
This service was developed to meet the needs of customers who are increasingly digitizing their lifestyle along with the popularization of smartphones.
Digitization will increase the usage of the gift cards, making them even more convenient and suitable for diverse gift-giving needs.
Upholding the new brand message, "On Your Side. QUO CARD," the QUO brand, will bring positive economic impact to stores affiliated with T-GAIA and Quo Card, such as convenience stores. Also, as a communication tool connecting people, it will work to acquire trust from among all its stakeholders, which is crucial to the business.
Ecological solution using solar panels
T-Gaia, which operates about 2,000 mobile phone stores in Japan, entered the solar power business based on "local production for local consumption" concept through its fully owned subsidiary TG Power. T-Gaia has been installing solar panels at T-Gaia's mobile phone stores, distribution warehouses, restaurants and other facilities. The use of clean power generated by solar panels helps reduce CO2 emissions and address global warming. It also allows stores and facilities to optimize energy balance between supply and demand and improve cost efficiency.
Designated by NTT DOCOMO as a company to install solar power generation systems at DOCOMO Shops nationwide, T-Gaia is gradually installing systems at about 300 DOCOMO Shops. The company is also planning to deploy electric vehicles (EVs) as an energy storage combined with power generation system in cooperation with Sumitomo Mitsui Auto Service Company, which is engaged in car leasing. In the event of a disaster, electric power will be supplied from solar panels as well as the batteries of EVs to resume the operation of shops as quickly as possible and to ensure the safety and security of customers and staff members.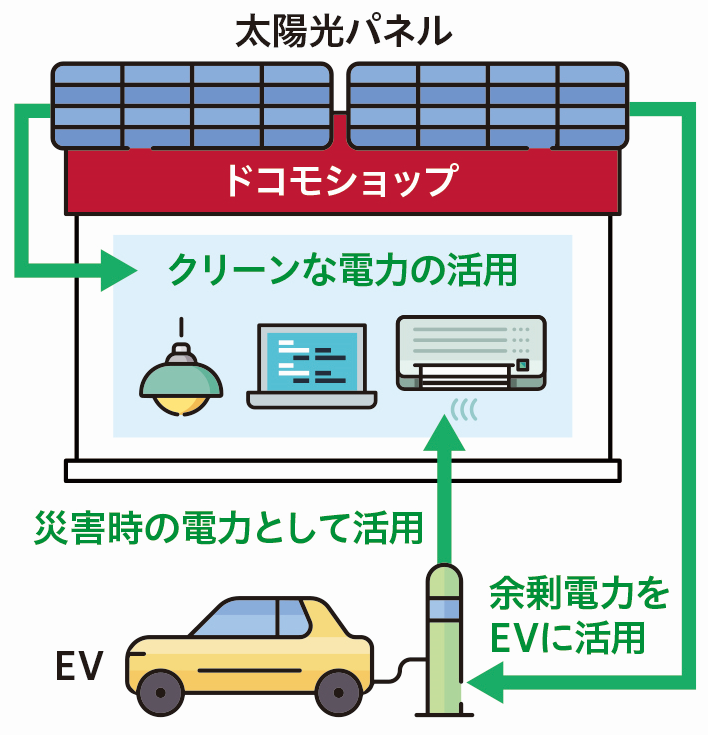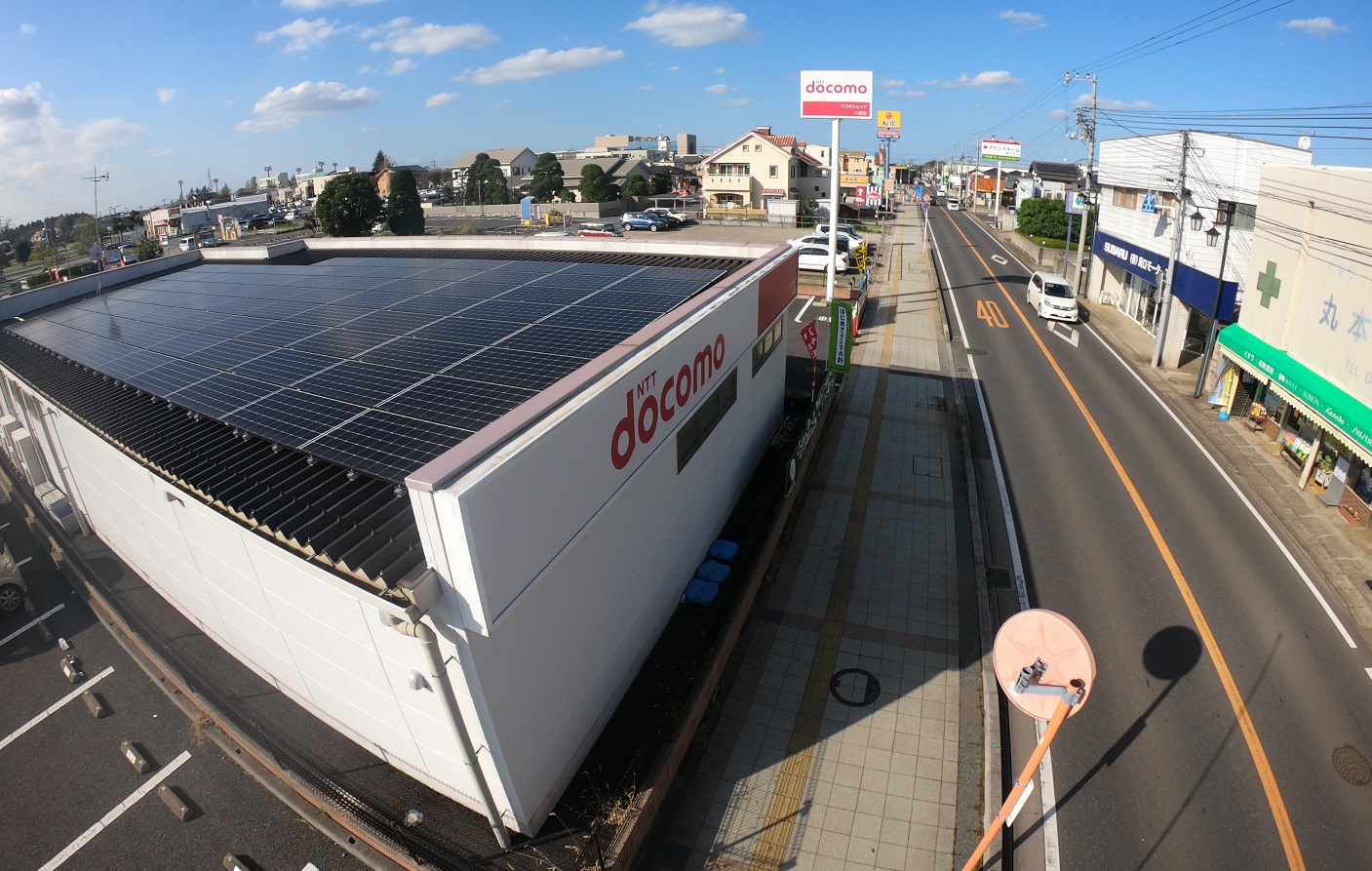 Keyword
Media & Digital Business
Japan
Information Telecommunications